London based online FX, CFDs and spreadbetting broker CMC Markets Plc (LON:CMCX) has issued its Trading Update for its FY-2019 first quarter (the three month period of April-June 2018, CMC has a March 31 fiscal year end), not giving much in terms of specifics other than to say that Net Operating Income for the first quarter was moderately above the same period last year.
That's not really the greatest news, since CMC did a lot better in the second half of last year than the first half of the year, as per the following chart: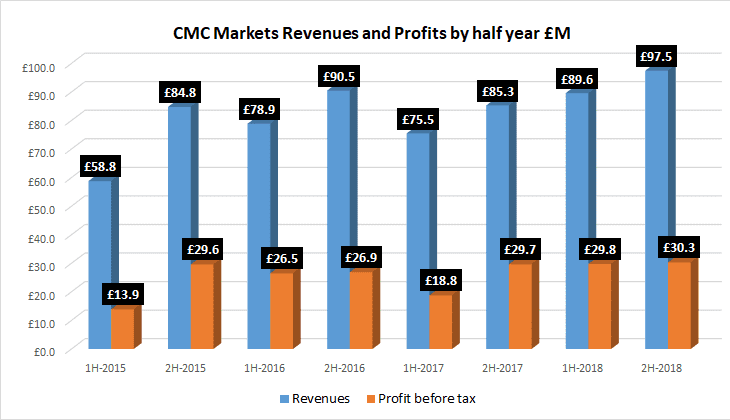 CMC said that its focus on premium clients drove an 8% increase in revenue per active client for the period.
On the expense side of things, CMC stated that costs for the full year will be moderately higher than FY18 as the Group continues to invest in strategic initiatives to drive future growth.
Regulatory changes introduced by ESMA will take effect from next week, August 1, and CMC said that it continues to grow the proportion of UK and European revenue that is generated by elective professional clients. As previously guided, the company expects that revenue from professional clients will account for at least 40% of UK and European revenue (on a rolling 12-month view). Conversion of clients to elective professional status remains a key focus for the business.
CMC said that it is making good progress developing its white label partnership with ANZ Bank in line with its plan. As part of this transaction, in early July, the Group successfully completed a major delivery milestone with the migration of 103 intermediaries to the CMC Stockbroking platform. The migration of ANZ Bank retail clients, is on track to take place in September.
Peter Cruddas, Chief Executive Officer, commented:
I am pleased to report that CMC has made a solid start to our financial year. Our strategy of focusing on high value clients, technology and partnerships is supporting the delivery of long term sustainable growth. At the same time, we are successfully diversifying CMC's business model into markets where we can leverage our technology, such as through our growing institutional business and stockbroking partnerships in Australia. We are on track to deliver another successful year in 2019.