London based online FX, CFDs and spreadbetting broker CMC Markets Plc (LON:CMCX) has issued a trading update for its fiscal 2018 third quarter, covering the period from October to December 2017. CMC has a March 31 fiscal year end.
Overall, CMC reported mixed results, with fewer active clients but a healthy rise in revenue per client more than compensating for the lower number of clients, as CMC continues to focus on high value, experienced clients and on growing its institutional business. During the quarter CMC introduced a Spread Bet API plug-in for institutional FX and CFD traders.
Without giving specific numbers (CMC only reports actual revenue and expense figures for half-year periods), CMC stated that Q3 revenues were the highest for any quarter so far this fiscal year – and the first half of fiscal 2018 was fairly strong already (see chart below), with CMC reporting £89.6 million of Revenues for the six month period, its best half-year results since 2H-2016.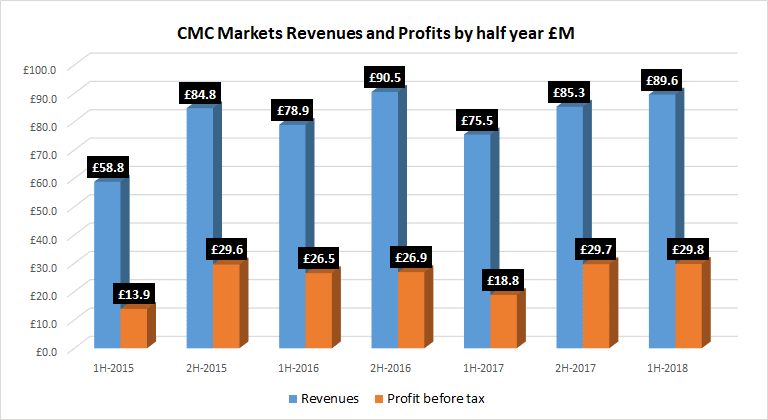 CMC's full Trading Update for Q3-2018 reads as follows:
---
25 January 2018
CMC Markets PLC
Q3 Trading Update
Continued focus on high value clients delivers 33% growth in revenue per client 
CMC Markets plc, (LSE: CMCX, "CMC" or the "Group"), a leading global provider of online retail trading, today issues its trading update for the period from 1 October to 31 December 2017.
The Group delivered a strong performance in the third quarter, with net operating income the highest for the year to date, reflecting the Group's continuing focus on high value, experienced clients and growing institutional business. Active clients for the quarter were 6% lower than the same period last year at 38,859, and 4% lower for the year to date. However, the proportion of high value clients has continued to grow, helping drive revenue per client up by 33% from the same period last year and 26% on a year to date basis.
Operating costs before variable remuneration continue to be well controlled, and the implementation of the Group's stockbroking partnership with ANZ Bank in Australia remains on track for delivery in September 2018.
Outlook
CMC remains confident that its strategy and focus on high value clients will continue to drive growth over time. However, the regulatory uncertainty continues and the Group remains cautious around the impact any potential changes could have on Group performance in the short-term. CMC's longer-term outlook remains positive and the Group believes that its strategy of targeting high value, experienced clients, many of whom could be 'elected professional', together with its proprietary technology puts the Group in a strong position to manage regulatory change.