LeapRate Exclusive… LeapRate has learned that ADS Securities London Limited, the FCA regulated UK arm of Abu Dhabi based global financial concern ADS Securities, has continued to grow – and has turned profitable after several years of investment by the parent company.
Revenues at ADS Securities UK came in at £5.4 million (USD $7.5 million) in 2017, 38% above the £3.9 million the company brought in during 2016. The company much improved its bottom line as well, moving from a £3.1 million loss in 2016 to a modest £461,000 net profit in 2017.
Parent ADS Securities has invested £14 million of capital into its UK arm over the past five years formally opening its London office in early 2015, and clearly has some big plans for the company. ADS moved its Chief Dealer Paul Webb from group headquarters in Abu Dhabi to head the UK operation in 2016, and he has been CEO of ADS Securities UK since. HE had first joined ADS in 2012, after having served as Head of Trading at CMC Markets and as Head of Market Risk at Worldspreads.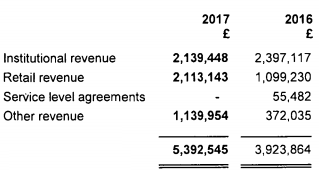 While ADS has focused on its institutional business in the UK and its FX Prime of Prime offering, much of the growth in 2017 came in its Retail client segment. Retail revenues doubled at ADS UK in 2017 to £2.1 million, as the company introduced added Spread Betting to its OREX trading platform during the year. ADS also began a high profile video ad campaign starring A-List Hollywood actor Adrien Brody.
ADS UK CEO Paul Webb commented to LeapRate:
We are pleased that we are starting to see the return on the investment we have made into people, technology and products. Our focus in the London office has been on working with the ongoing changes in regulation so that we continue to build a strong and sustainable business.
ADS Securities London Limited's 2017 income statement follows: