Mati Greenspan, Senior Market Analyst at FX broker eToro, has provided his daily commentary on traditional and crypto markets for April 16, 2019. The text below is an excerpt and does not contain the full analysis.
---
Highlights include:
Binance De-Lists BSV: Binance announced yesterday that they would de-list BitcoinSV, due to the founder's threats to Twitter users disputing his claim that he is Satoshi Nakamoto. Bitcoin was unaffected, but Bitcoin Cash saw a significant jump.
Fed to Hold Rates Steady: An editorial from a former Fed president argued that the Fed should begin lowering rates now to fight a future recession. Despite this, the Fed is signaling that rates will likely remain flat until 2020.
Decentralized Exchanges Hurt Retail Traders: A recent report shows that high-frequency traders are currently taking advantage of retail customers on DEX platforms by paying higher miner fees to get priority transactions.
Netflix Earnings Upcoming: Netflix will announce its earnings tonight. Investors want to hear about are their global expansion plans.
Traditional Markets
Financial earnings soured a bit yesterday as Citigroup and Goldman Sachs reported declining revenues. Tonight, financial earnings continue with Blackrock, but the main focus after the closing bell will be Netflix.
The number one streaming content service is now facing some heavyweight competition from both Apple and Disney, but that isn't likely to be reflected in today's report. What investors want to hear about are their global expansion plans.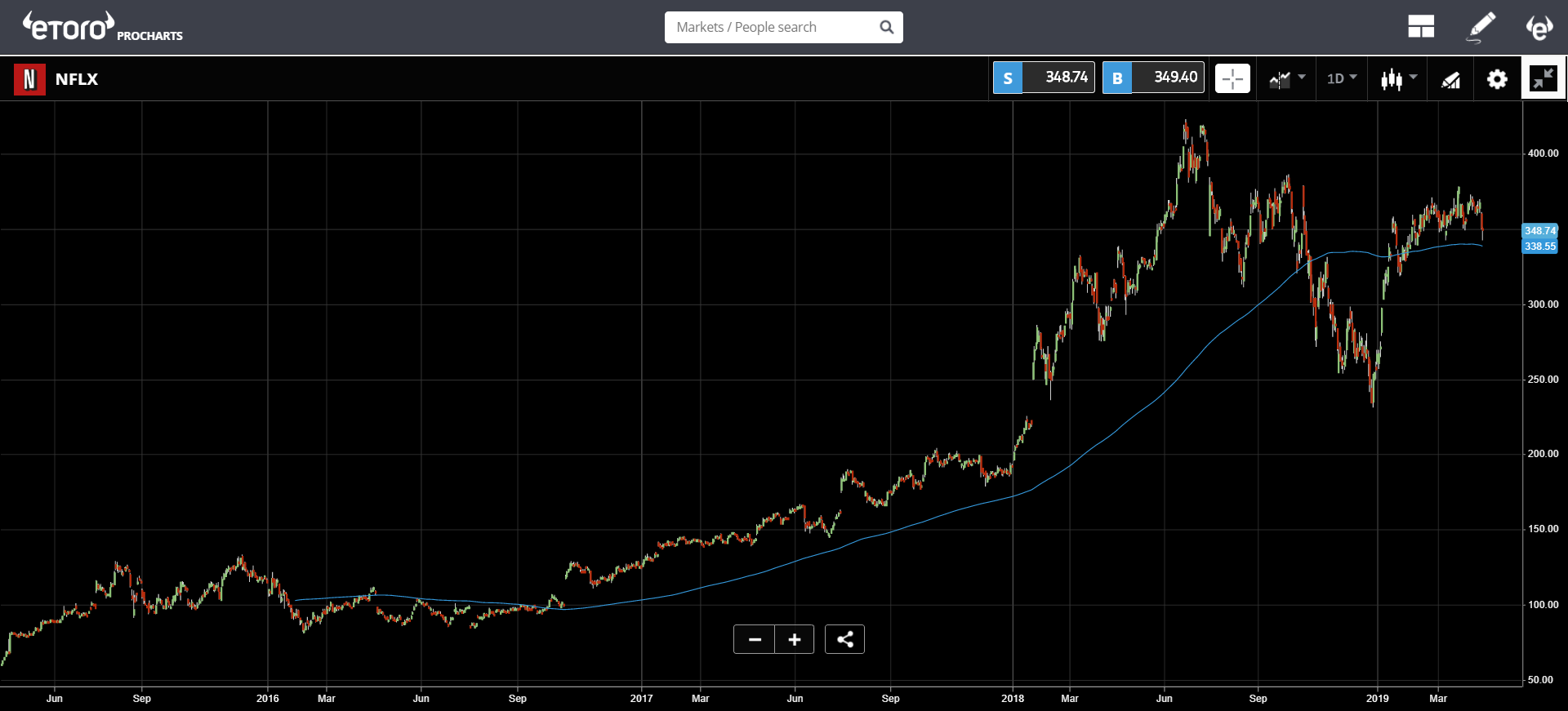 What the Fed
Yes, the Fed is probably watching the current earnings season very closely, but what really moves the markets are the central banks. As the great Wanye Gretzky would say, "don't watch the puck, watch where the puck is going."
Yesterday, former Fed President Narayana Kocherlakota published the following editorial on Bloomberg.

To me, Kocherlakota's logic is a bit perplexing. He starts off by saying that the Fed has no tools left to fight a recession because rates are currently too low and concludes that the Fed should start lowering rates already now, just in case a recession comes. My brain hurts.
Fortunately, this is not the Fed's base case at the moment. We also heard from two other Fed members yesterday who seemed dovish, but a bit more level-headed. Evens said that rates will likely remain flat until at least 2020 and Rosengren argued against negative interest rates.
Bitcoin Isht
Personally, I try to stay away from politics as much as possible, but often politics move markets. So it pays to pay attention.
For example, when someone claims to be Satoshi Nakamoto without providing sufficient evidence, then threatens to sue people for calling him out, and before you know it Twitter is full of space cats, these things can have an impact.
Now, I don't know Craig Wright, and I don't know who Satoshi Nakamoto is, but for those wondering if Craig Wright might be Satoshi Nakamoto as he claims, here's a helpful link with a bunch of resources.
When Binance decided to delist Wright's version of Bitcoin known as BitcoinSV the price of Bitcoin Cash did see a significant jump on the announcement.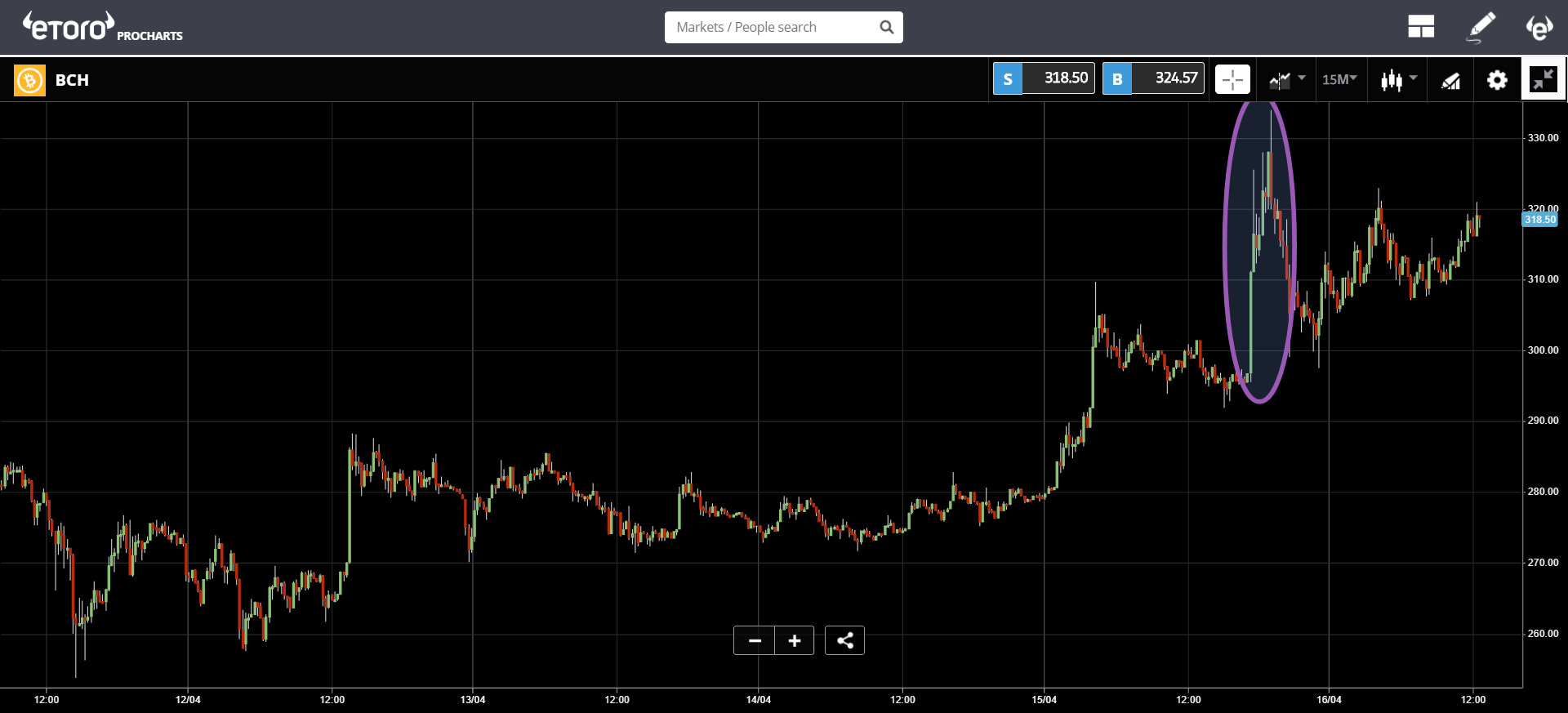 Bitcoin however, was not affected in the slightest. At this point, bitcoin is too large to be affected, even by what may seem like a significant cash flow in the lower cap coins.
Let's have an amazing day ahead!
---
Mati Greenspan can be found on LinkedIn, Twitter, or etoro. 
This is a marketing communication and should not be taken as investment advice, personal recommendation, or an offer of, or solicitation to buy or sell, any financial instruments. This material has been prepared without having regard to any particular investment objectives or financial situation, and has not been prepared in accordance with the legal and regulatory requirements to promote independent research. Any references to past performance of a financial instrument, index or a packaged investment product are not, and should not be taken as, a reliable indicator of future results. eToro makes no representation and assumes no liability as to the accuracy or completeness of the content of this publication, which has been prepared utilizing publicly-available information.