Mati Greenspan, Senior Market Analyst at FX broker eToro, has provided his daily commentary on traditional and crypto markets for April 15, 2019. The text below is an excerpt and does not contain the full analysis.
---
Highlights include:
Earnings Drive Sentiment: The number one factor driving markets at the moment are corporate earnings announcements.  Today, Citi Bank, Goldman Sachs, and M&T Bank report before the opening bell.
Crypto Green as Paris Blockchain Week Kicks Off: Top cryptos are up today, as Paris Blockchain Week begins. eToro CEO Yoni Assia will take the stage tomorrow afternoon.
Trump Attacks Fed: President Trump took to Twitter with criticism of the FOMC, despite the fact that the economy has been performing well.
Chinese Stocks Soar, then Retract: Chinese stocks were up by 3% today on positive trade news, but the gains were erased over the course of the day.
Traditional Markets
At one point Chinese stocks were up by 3% today, but it seems that by now the gains have been almost completely erased.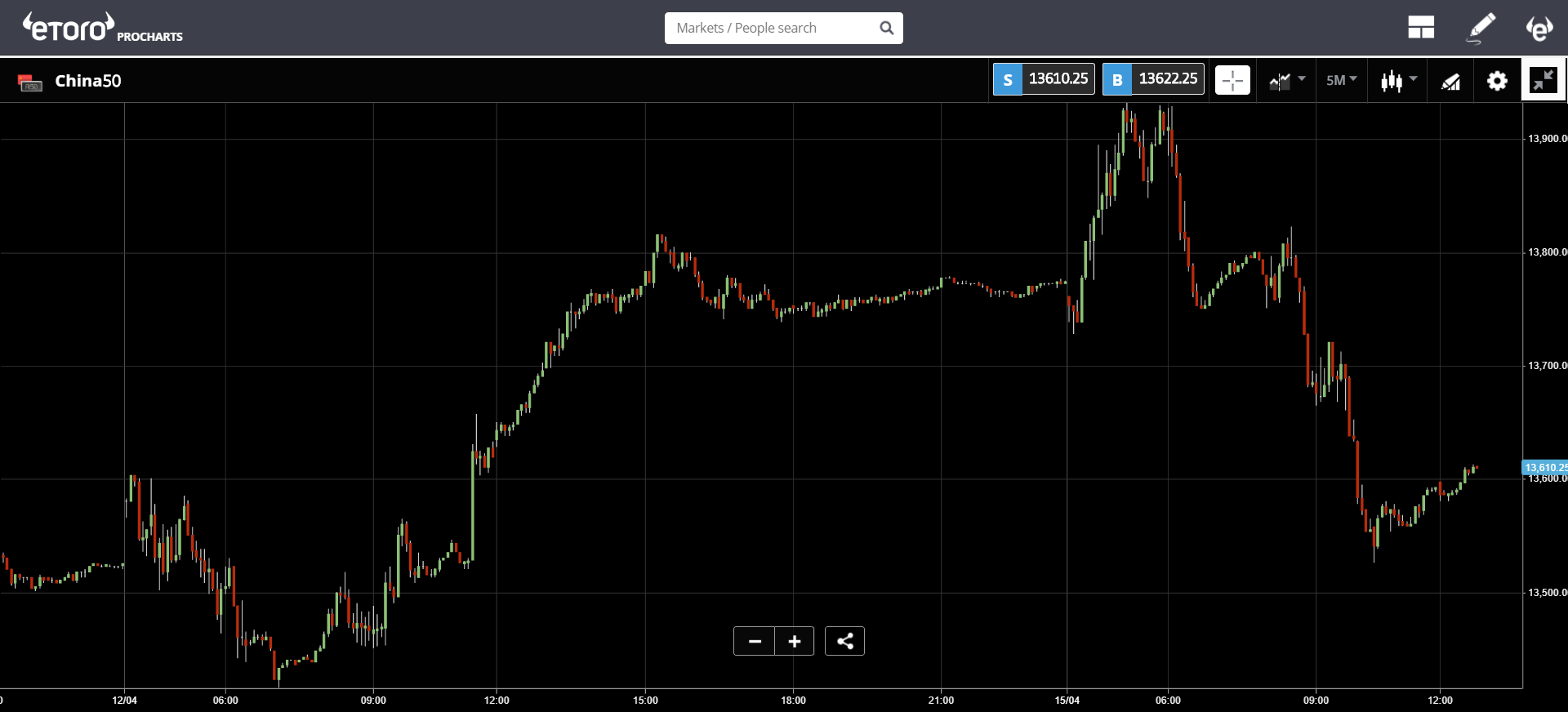 Two reasons have been named for the sharp increase. The first is a delayed reaction to some positive trade balance figures on Friday. As the numbers were published in what is technically the weekend in China, it would make sense for the reaction to come this morning. Also, the numbers were really good.
The final figure was published at 221 billion CNH, as economists were forecasting just 2 billion CNH.

The second reason is….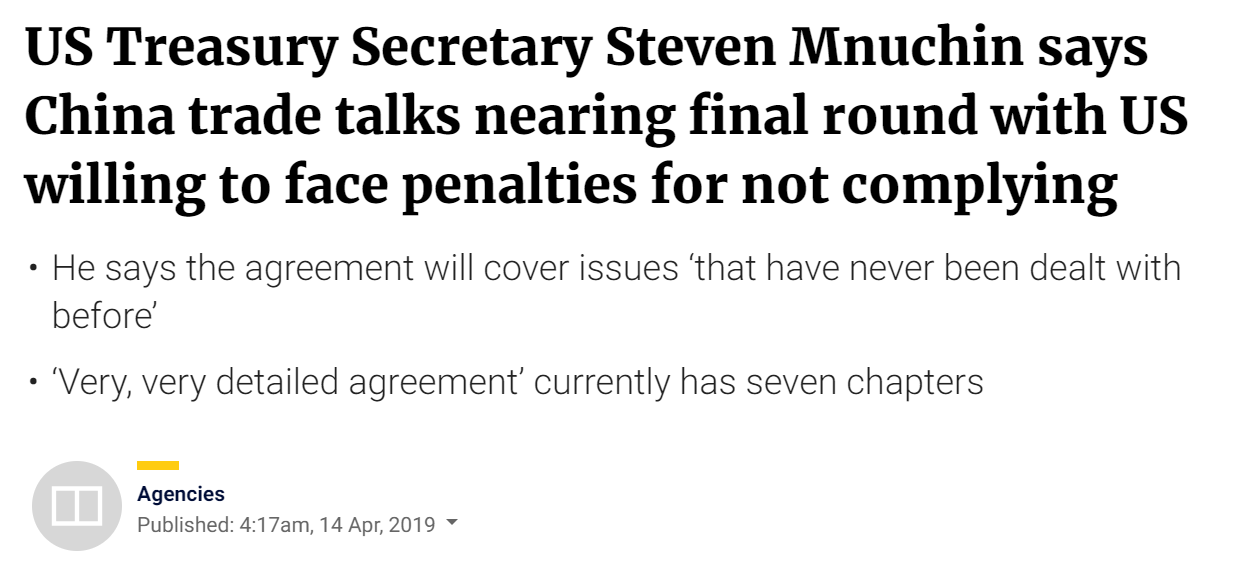 There doesn't seem to be any immediate reason for the gains to have been erased. Funny that.
Trump Against the Fed
Over the weekend, the US President continued his attack against the US Federal Reserve with a tweet that was more than slightly shocking…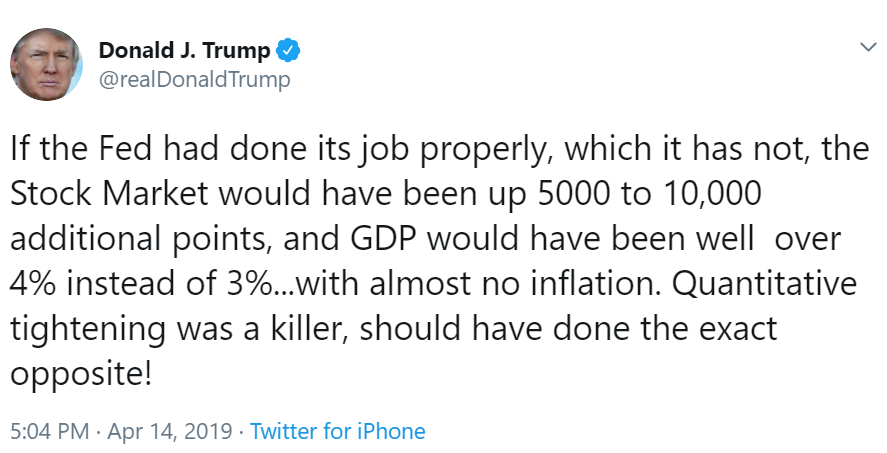 What's unclear to me, aside from what calculation was used to arrive at these numbers, is what exactly the President hopes to gain from this offensive.
It would seem that he's trying to get the Fed to step on the gas a bit more, but as we discussed in Friday's update, the pedal is already at the floor. Some have suggested that Trump is simply trying to blame the Fed for lackluster economic performance, but if that's the case, this is even more perplexing as the economy has been doing fantastic.
Blockchain in Paris
Price action has been encouraging over the weekend and all of the top cap cryptos are up over the last 24 hours.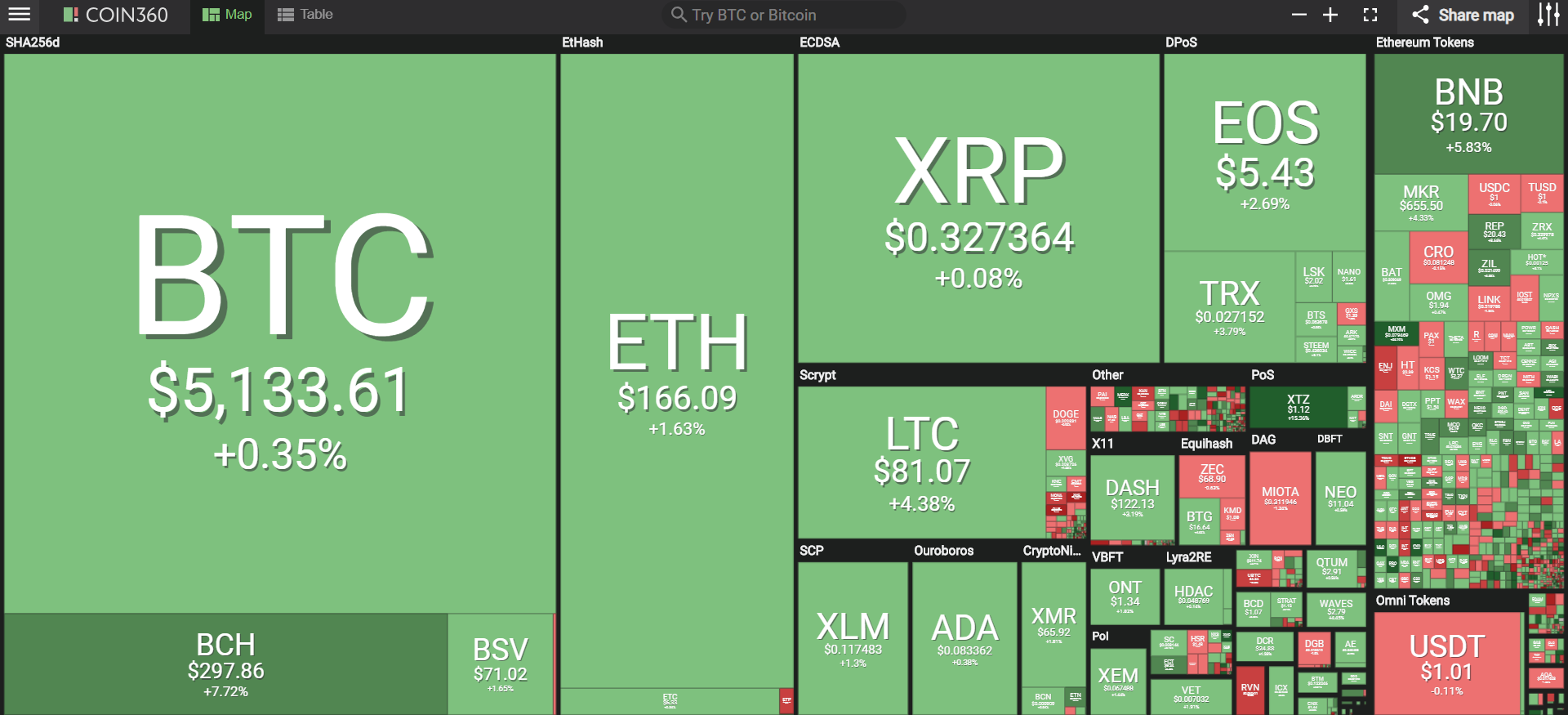 One thing we'll be watching closely is Paris Blockchain Week, which has just been kicked off with a bang by Bruno Le Maire, France's minister of economics and finance.
Monsieur Le Maire is tweet-storming as I write, this last one looks really encouraging…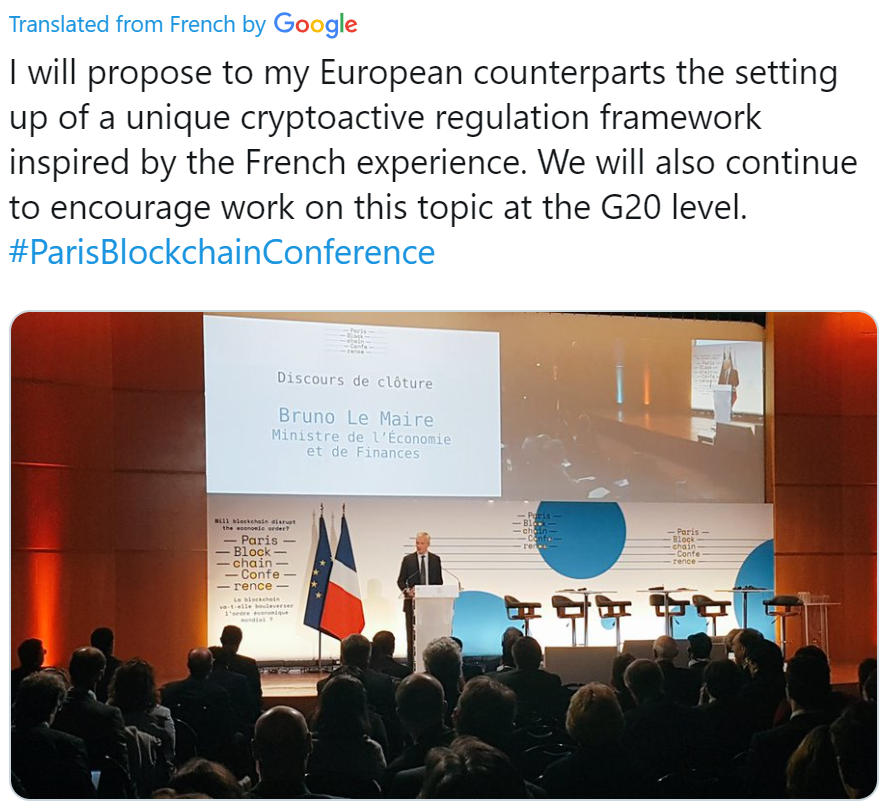 Let's have a fantastic week ahead!
---
Mati Greenspan can be found on LinkedIn, Twitter, or etoro. 
This is a marketing communication and should not be taken as investment advice, personal recommendation, or an offer of, or solicitation to buy or sell, any financial instruments. This material has been prepared without having regard to any particular investment objectives or financial situation, and has not been prepared in accordance with the legal and regulatory requirements to promote independent research. Any references to past performance of a financial instrument, index or a packaged investment product are not, and should not be taken as, a reliable indicator of future results. eToro makes no representation and assumes no liability as to the accuracy or completeness of the content of this publication, which has been prepared utilizing publicly-available information.