Moscow Exchange (MOEX) announced its financial results in accordance with International Financial Reporting Standards (IFRS) for the year ended 31 December 2016. The Exchange delivered solid financial results driven by record fees and commission income from its Derivatives, Fixed Income and Money Markets.
Key Financial Highlights for 2016
Operating income declined 5.3% YoY to RUB 43.57 bln
Fee and commission income grew by 11.3% YoY to RUB 19.80 bln
EBITDA contracted by 8.0% YoY to RUB 33.60 bln; the EBITDA margin was 77.1% vs. 79.4% in 2015
Operating expenses grew by 8.8% YoY to RUB 12.26 bln
Net income declined 9.6% YoY to RUB 25.18 bln; basic earnings per share were RUB 11.22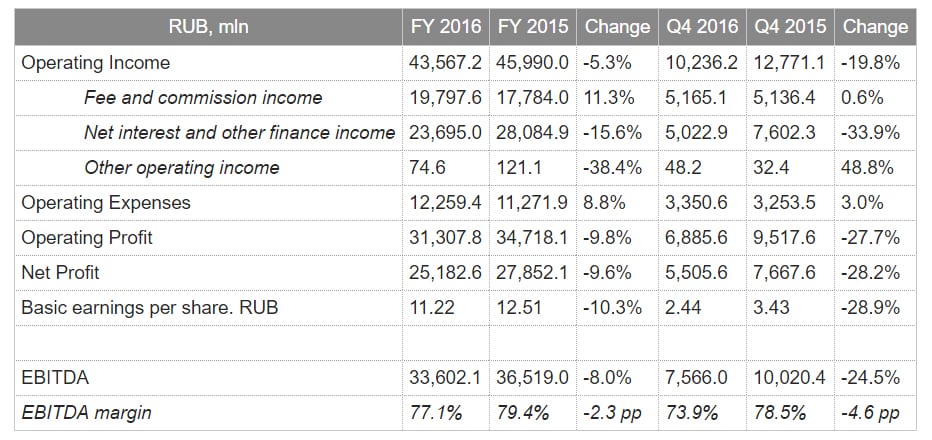 Key Corporate Highlights of 2016
MOEX remained the main platform for Russian issuers to raise capital via public markets, with seven equity offerings (including two IPOs), 12 government bond issues and 337 corporate and other bond issues.
The Exchange significantly expanded its product offering by launching trading in new instruments across all of its markets: new FX futures, a new FX pair, new ETFs, the first overnight corporate bonds, futures on the RUONIA rate, as well as general collateral certificates (GCCs).
MOEX delivered on its strategy to attract domestic retail investors, with approximately 106,000 individual investment accounts opened during 2016 (bringing the total to 208,701 as of 1 March 2017); a new on-line educational platform for private investors was successfully launched.
MOEX has established itself as a leader in the Russian fintech space as it tests blockchain technology for financial markets and supports fintech start-ups.
MOEX simplified its corporate structure by legally merging several entities, thus reducing costs and streamlining customer relations.
The Exchange completed the main phase of the listing reform aimed at strengthening corporate governance at listed Russian companies and providing better protection of the rights of individual and institutional investors.
Alexander Afanasiev, Chief Executive Officer of Moscow Exchange, said:
It was a good year for the company as we successfully delivered on our strategy to expand the product offering, grow the domestic investor base and attract more international investors to our markets. We are also pleased to see rising demand for capital by companies resulting in significant growth in new bond and equity issuance. This creates new opportunities for investors and generates additional trading volumes. Lower interest rates as expected led to the normalization of interest income. At the same time, we are very satisfied with the strong growth of fee and commission income, the core source of income for an exchange. In the new year we are continuing to invest into development of new products, services and technologies as well as attracting more investors to our markets. Strengthening corporate governance at Russian companies remains high on our agenda as the key element to boosting transparency and the attractiveness of the Russian market as a whole.
Evgeny Fetisov, Chief Financial Officer of Moscow Exchange, added:
We delivered a strong finish to a successful 2016, despite lower market volatility than a year ago. In 2016, we continued to see substantial volume growth across most trading markets, with the greatest contributions to increased fee and commission income coming from the Money Market (+24.8% YoY), Derivatives Market (+39.5% YoY) and Fixed Income Market (+25.4% YoY). This resulted in a new record year for fees and commissions. Interest income declined (-15.6% YoY) in line with expectations of normalization on the back of lower interest rates and lower client balances in RUB.

Cost control remains one of the key priorities for the business. Cost growth was 8.8% YoY, mostly driven by capital expenditures, as we switched to Dataspace1 as the main data centre and increased our IT footprint to ensure reliability of core systems. This led to higher depreciation and amortisation numbers as well as higher IT maintenance costs. Reduced spending on third-party professional services and rent of property delivered cost savings. The EBITDA margin remained one of the best-in-class globally at 77.1%.
Analysis of full year 2016 financials
Total operating income:
Operating income in 2016 totalled RUB 43.57 bln, down 5.3% YoY.
Fee and commission income increased from RUB 17.78 bln to RUB 19.80 bln (+11.3% YoY).
The growth of fees and commissions, driven by strong performance of the Money Market (+24.8% YoY), Derivatives Market (+39.5% YoY) and Fixed Income Market (+25.4% YoY), partially offset the decline of interest and other finance income that was the result of lower interest rates and normalization of client balances.