The following article was written by Stephen Pearson, CEO of Sports Media Gaming Ltd (SMG). SMG is a leading international sports marketing agency and has been at the forefront of brokering recent blockchain sports sponsorships. Stephen has held Board roles at UEFA Champions League and English Premier League.
---
Sports sponsorship is fast becoming the staple marketing platform for the Blockchain sector and producing some immediately quantifiable results.
Floyd Mayweather was the first big name in sports to endorse a series of initial coin offerings including Stox and the Hubii network. His name and image was used over a very short window of time to plug the ICO and drive interest via his fame and 20m+ social media followers.
Arguably the biggest name in football, Lionel Messi supported the Sirin Labs launch and was able to provide his 200m+ social media platform to the ICO.
Undoubtedly Mayweather and Messi would likely receive tokens in these companies as well as fiat currency.
Teams have also attracted sponsorship from brands that are either in pre or post sale. Arsenal FC were the first football club to announce a coin partnership with Cashbet whose token sale co-incided with the second half of the Premier League season, allowing Cashbet to benefit from LED at Arsenal home matches, televised to a global audience.
FormulaE has been a significant beneficiary of the new spending sector. The obvious synergy to new technology has been one of the driving forces that encouraged Ethereum to lend its name temporarily to the Di Caprio Venturi team and Dragon Coin's title sponsorship of the Asia backed Techeetah team.
One of the most recent partnerships announced post sale was an endorsement of health and fitness APP Lympo by tennis superstar Caroline Wozniacki. This is standing out as a proven case study in how the use of sports is delivering a quantifiable return on investment.
Lympo is backed by the biggest blockchain names such as Sonic Zhang, Bill Angelidis, and Antanas Guoga.
Wozniacki was obviously a perfect fit, World number 2 on the WTA rankings, winner of the Australian Open in 2018 and last month named by Forbes as the World's Most Influential Female Athlete. She would be the first ever female athlete to endorse a blockchain product.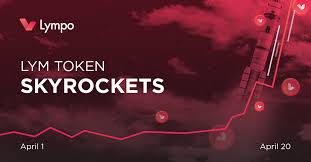 With a high-profile launch in Monaco the results have given Lympo an immediate significant increase in the value of the business with the LYM token increasing by over 50% since the announcement and the company market cap increasing to over $25m.
This deal is quite different to many of the others. It is not simply a use of a famous sports person to bolster an ICO. The company was already in post-sale and the deal with Wozniacki is a three-year partnership, demonstrating that Lympo are in it for the long term and creating a sustainable and credible business.
This author wrote an article recently for LeapRate about measuring the return on investment via sports in the FX sector. The immediate positive results for Lympo are a clear sign that sports marketing will play an important role for brands in this sector.
Team sponsorships will be dictated by on the ground regulation and where brands can advertise but the use of brand ambassadors is likely to continue since there are limited regulatory restrictions around the marketing by an individual.