The following article was written by Jens Chrzanowski, Member of  the Management Board of Admiral Markets Group AS.
---
Hello,
Last week, I reported from a B2B Expo, the London Summit 2017. This week, I will write about the most recent B2C Expo that Admiral Markets joined in Germany – the World of Trading, or just WoT 2017.
The expo featured around 50 exhibitors, with 36 seminars taking place on Friday and 34 on Saturday. In total, more than 4,000 retail clients visited and took part in countless conversations and product promos at the stands. It was, as always, a fantastic event.
At a Business-to-Business (B2B) expo, you just talk to professionals from your industry, while at a B2C one (Business to Consumer), your audience is different: not every visitor is an active trader, not every person you speak to might know what "Forex" or "CFDs" even mean. So, the main secret of being successful at an expo is – keep it easy and simple.
Read on for our five secrets of success!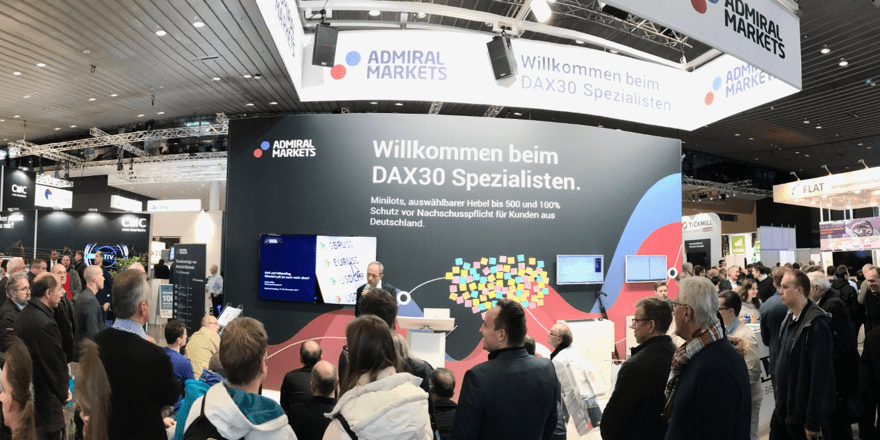 Admiral Markets' Stand at the World of Trading Expo in Frankfurt, Germany
Main Story: The DAX30 Specialist!
As you can see above, our stand featured the phrase: "Willkommen beim DAX30 Spezialisten", which means: "Welcome to the DAX30 Specialists". Believe me, if you ask random people about what Forex or CFDs are – only 2-3% will know the correct answer. If you do the same in Germany and ask about what DAX is, I believe minimum 90% will know that.
Sometimes, I am a rebel, so my rebellious message is: nobody is trading CFDs! The clients trade the DAX, the EURUSD, or Gold – that is what they like to know more about.
A marketing story will only be successful if you can breathe life into it!
You know that we do have competition around the world, Admiral Markets isn't the only broker. Yet, we strongly believe there's only one expert, one specialist when it comes to trading DAX30 – the German Index. Take, for example, our very best DAX30 Index CFD offer – with a typical, fixed spread of 0.8 points during the main trading hours; including Minilots; and a customisable leverage of up to 500.
So, our first secret: have one simple story!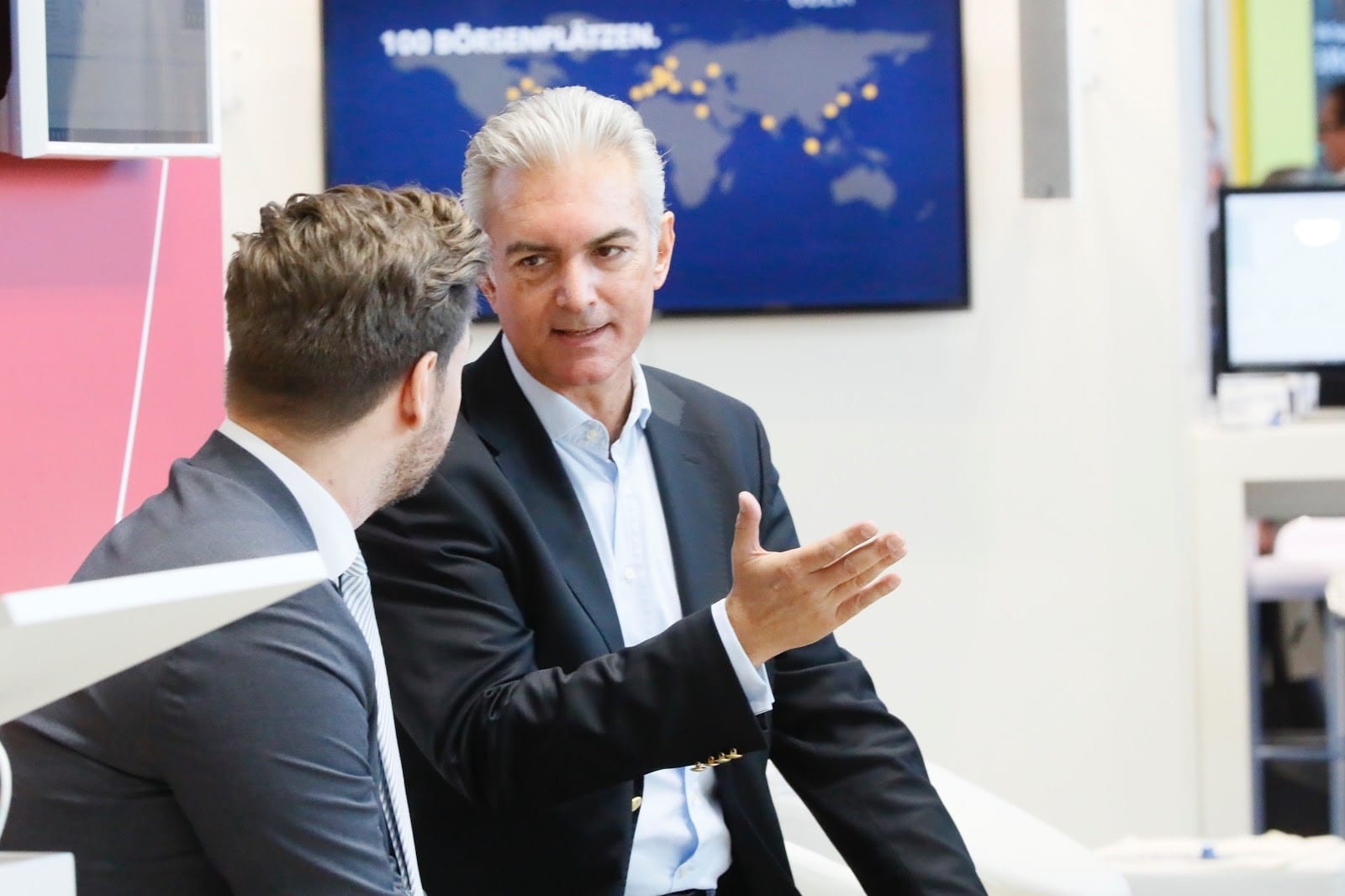 Admiral Markets' Star Analyst – Jochen Schmidt – in Action!
We Speak Your Language!
Question: Do you always understand what your bank manager says to you? If you do, you're doing much better than most.
At the expo event, we made dozens of presentations and spoke to hundreds of people. Our goal was clear: communicate, but at the same level. Trading, especially leveraged trading, is a kind of science – or if you know what are you talking about and where to "catch" your target group – easy to understand. The first step can be easy, or present obstacles – inform, invite, and get attention.
Secret #2: communicate at the same level!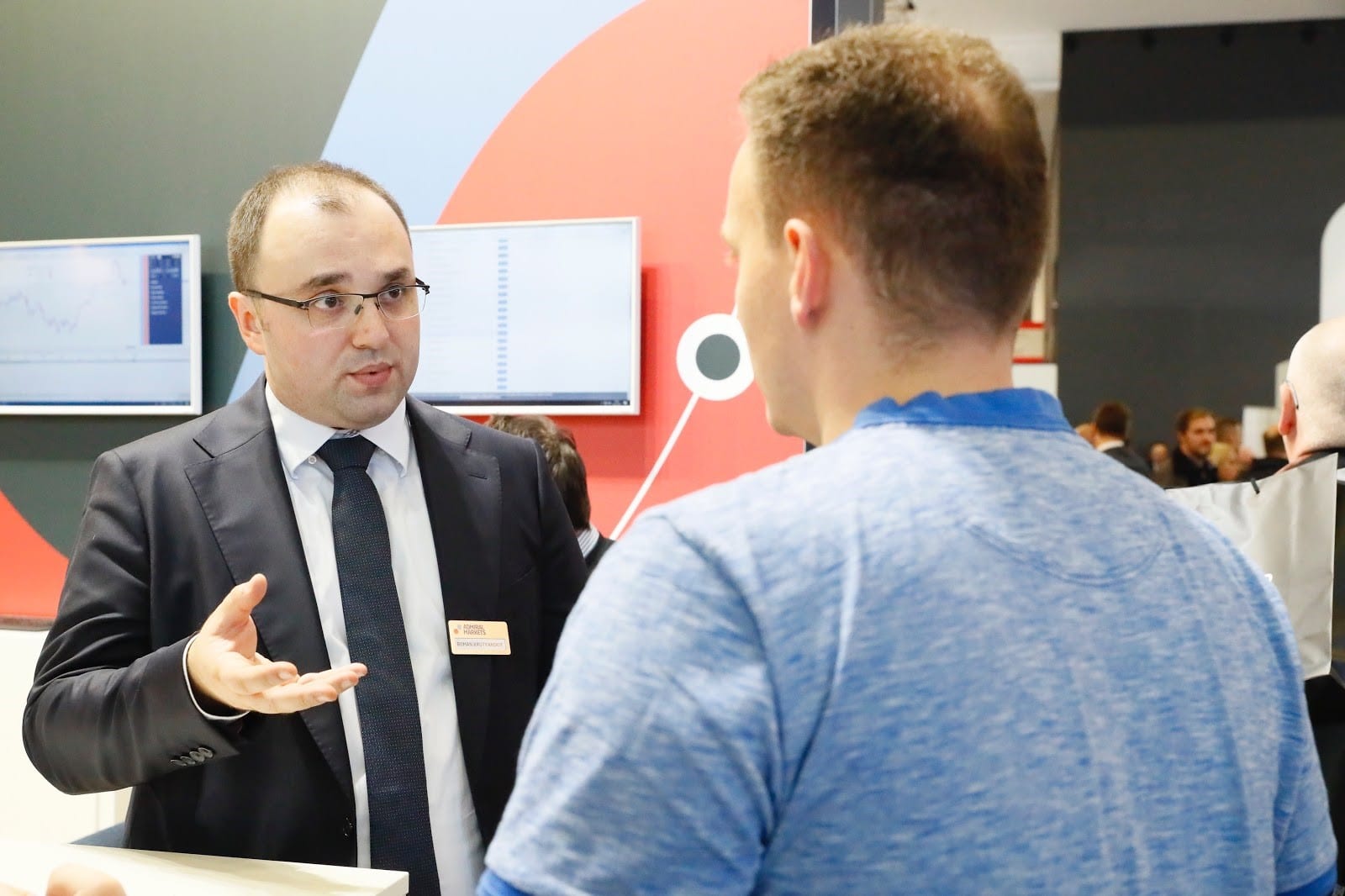 Admiral Markets' German Country Manager, Roman Krutyanskiy, in Discussion With a Trader
The Best Trading Education!
We live in the Internet Age, and there's no limit to the sources of information and education out there.
But if you get a chance to meet your online educator, you source of information, live – you will always have a better feeling and will always trust them more.
So, Admiral Markets went to WoT with the company's educators as the German audience only know presenters, day traders, and analysts "from online". At the expo, they had a chance to meet them face-to-face.
The educational presentations we did at the expo were about chances, risks, and risk management, whereas we spoke as real persons and real traders as any successful career in trading also includes losing trades, losses, and bad experiences.  We learn from our mistakes.
Secret #3: honest education.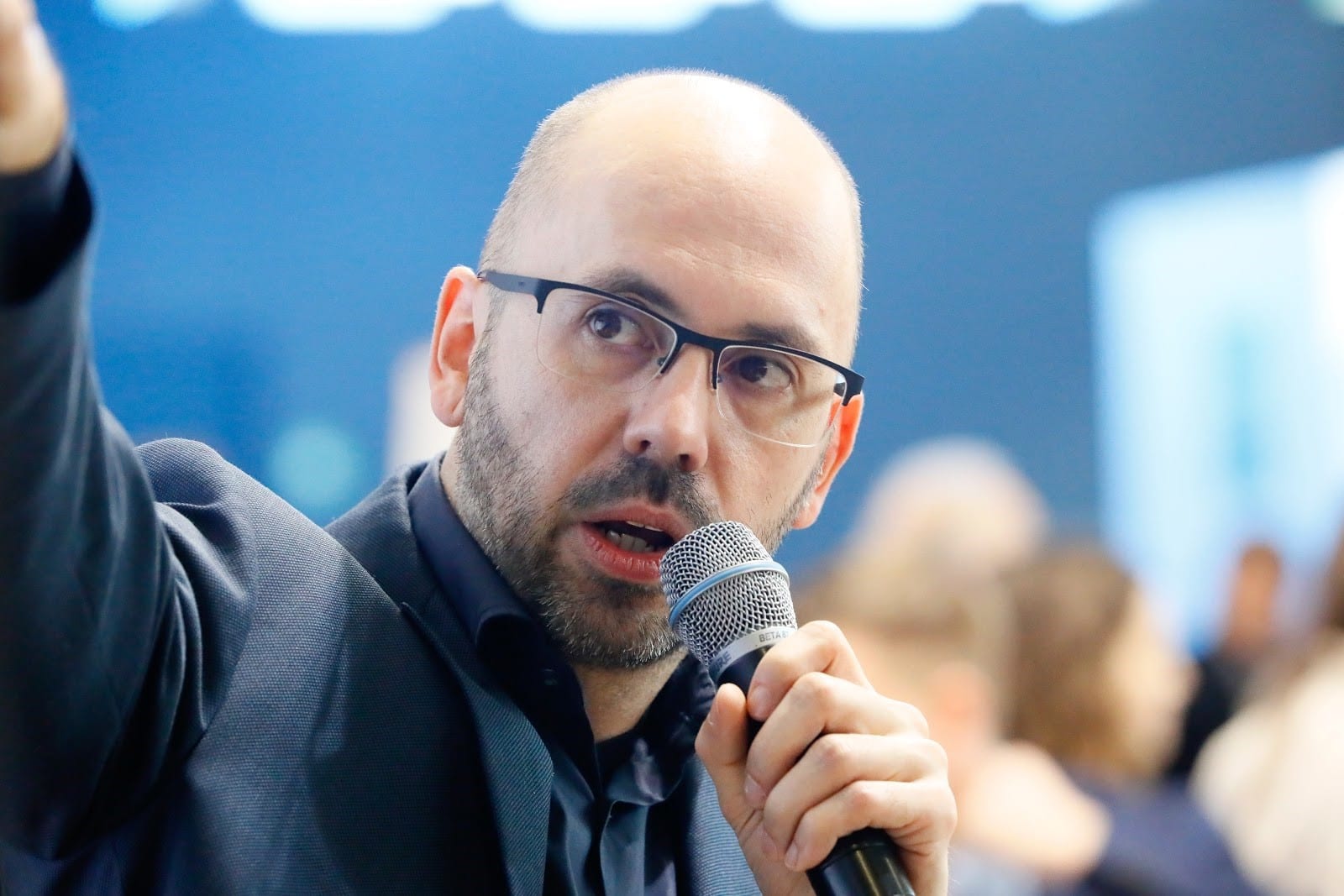 Heiko's Mantra: "A Great Trade Doesn't Need to Take More Than 5 Minutes!"
Scalping? Easy!
One of our leading experts is Heiko Behrendt, also known as High Speed Trader of the DAX. Scalping is the champions league of trading, and you should be experienced enough to use this trading style. But that doesn't mean you can't present and explain it in the easiest way possible. Heiko presented his order management, his risk management, and his limits in clear words… as well as how to learn more about scalping. The expo was just a sneak peek at our 8:30 am webinars, three times a week – Good Morning, DAX Index.
Secret #4: cross-promotion of other activities for your clients.
A Broker With a Face!
To sum up: we always enjoy showing our faces, answering questions, and receiving direct feedback from our clients.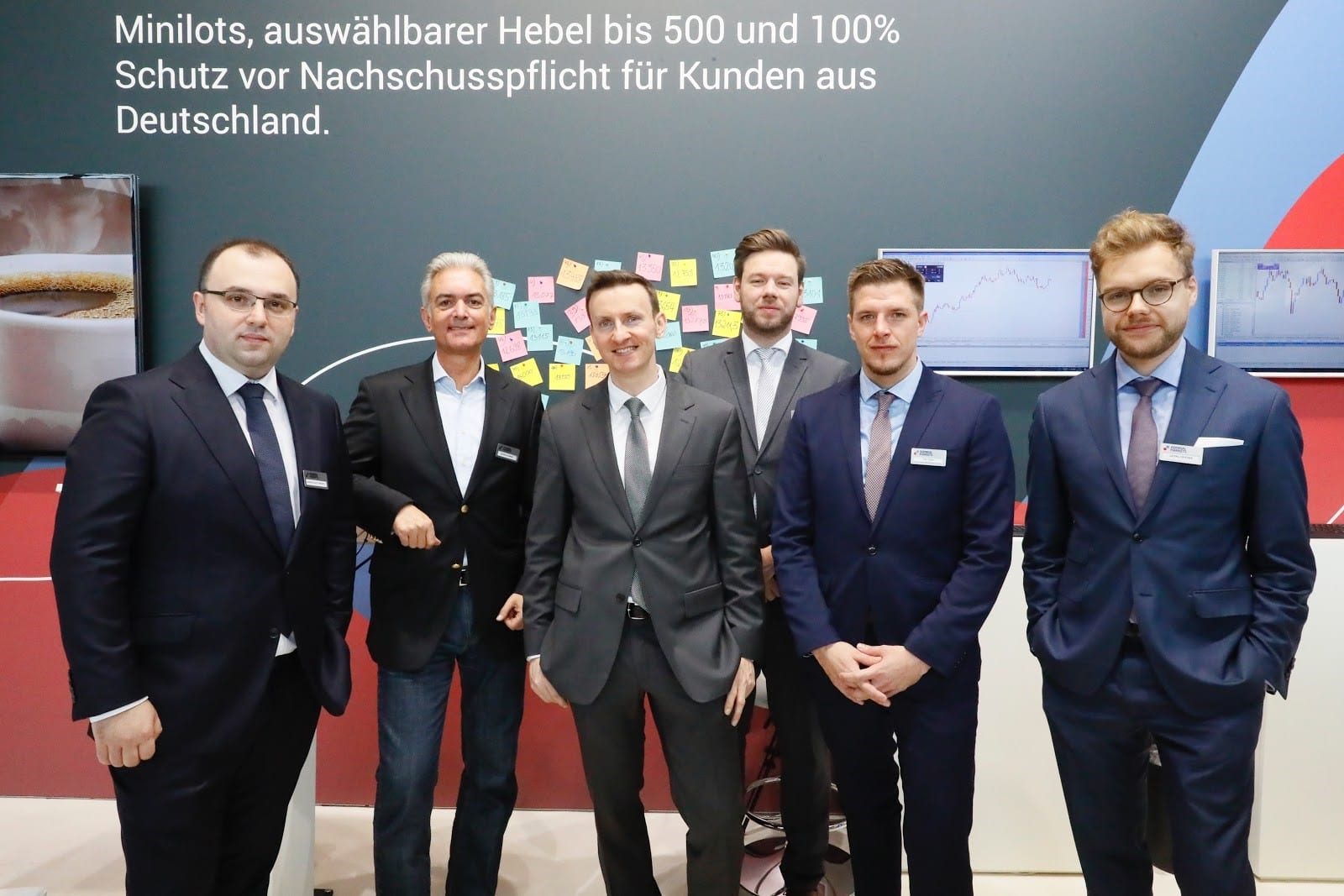 Admiral Markets' German Office Team
We are all online brokers or working in an online industry. But if you don't show yourself live, you'll never get the highest reputation and trust that is a must for any business.
Secret #5: show your face! You have nothing to hide. Our business is about trading, and there will always be profit and loss.
Back to our main story: if you trade the DAX30, you can make 30-50% profit in a single day. But as a law of nature also to the opposite can happen – loss. One thing can't happen without the other – chances and risks go hand in hand.
See you next week!
---
Do you have any feedback, concerns, requests, maybe even compliments? I'd love to hear them. Please contact me via: [email protected].
Trading on margin carries a high level of risk, and this article should not be seen as advice or solicitation to buy or sell, but written for informational purposes.