dxFeed, a provider of market data analytics and services for the global financial industry, announced today that it has extended its white label ready market screener for B2B clients, dxFeed Radar, with options analytics.
Clients can now create free form expressions written in dxScript programming language. This solution is an opportunity for brokerages and investment companies to have their own branded market screener.
dxFeed Radar is available as an HTML5 UI component ready to be branded and integrated into an existing IT infrastructure or as a service with REST and Java APIs.
dxFeed Radar is suitable for:
Brokerages, looking to offer their clients an exceptional market analysis tool
Wealth Managers, who want to save time on analysis and generate more profits
Algorithmic Trading firms looking for an extra edge
Traders and Analysts who need more accuracy and precision in their analysis
Financial News Websites who need to be alerted quickly to sudden market changes or embed the screener component for their users
Oleg Solodukhin, CEO of dxFeed commented:
We are thrilled to provide dxFeed Radar to the financial market participants. With this launch w e address the market's demand for an advanced tool for reliable and timely analysis of market data on the fly. This extends the portfolio of our services which provide powerful analytics to our clients while not putting any stress on their infrastructure.
dxFeed Radar's filters are totally customizable: assets can be easily sorted and filtered by either financial data (such as Percent Change, Price to Earnings Ratio, or Market Cap) or by a large variety of technical indicators (such as moving averages or RSI) or custom defined criteria.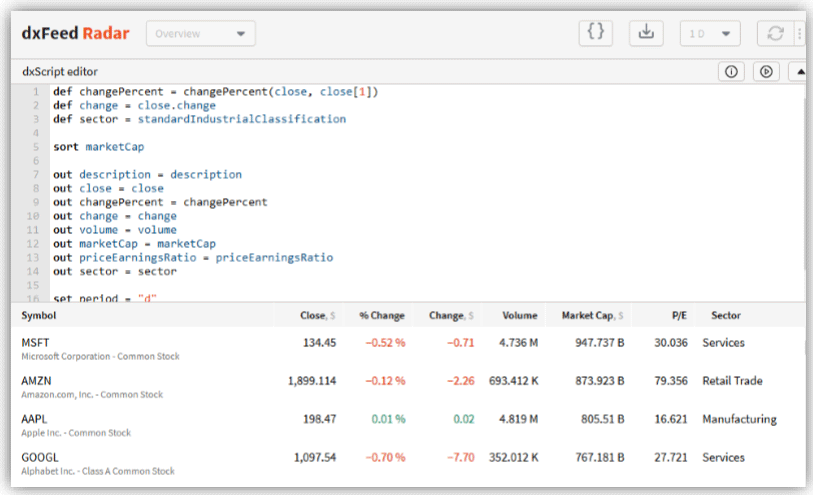 dxFeed Radar consists of three layers:
UI frontend, that can be branded for a client;
API layer for quick integration; and
the core layer with the dxScript language that can be adapted to scan for any financial instrument on any rule-based engine.