Further to our report yesterday that online mogul Teddy Sagi planned to sell 32.2 million (or about 30%) of his Playtech PLC (LON:PTEC) shares, the company today announced that the sale was increased to 38.7 million shares, sold at a price of £8.50 per share – netting Sagi £329 million (USD $411 million).

The offering size was increased by underwriters led by UBS following what they called 'strong investor demand'. Nevertheless, the large share block was sold at a 7.5% discount to yesterday's closing price of £9.19.
With more shares sold, Sagi's Brickington Trading Limited now owns 21.6% of Playtech, down from 33.6% before the sale.
Playtech's main business is online gaming systems and technology, although the company is also a major player in the online financial trading business via its retail forex Markets.com unit. The company is now entering the institutional FX liquidity and platforms business via its $120 million acquisition of CFH Group.
Playtech shares have traded very well over the past year, and are sitting near all-time highs.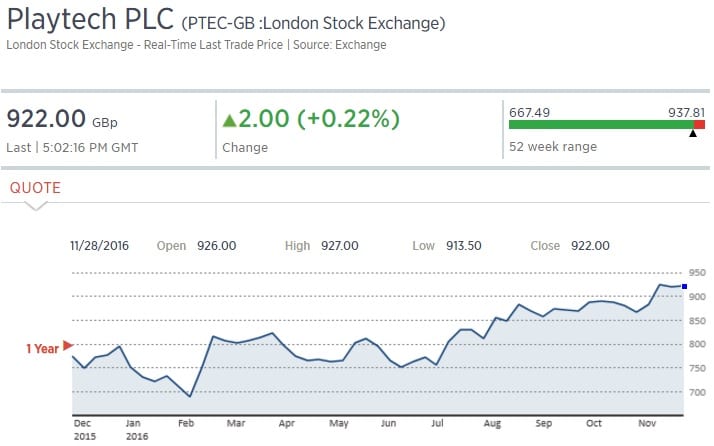 The Playtech press release reads as follows:
---
Playtech plc
("Playtech or the "Company")
Increase and Result of Secondary Placing
Further to the announcement on 29 November 2016 regarding Brickington Trading Limited's ("Brickington") proposal to sell approximately 32.3 million Ordinary Shares in the Company, the Company announces that it has been notified thatBrickington has sold 38.7 million Ordinary Shares at a price of 850 pence per Ordinary Share (the "Placing").
The Company understands that, due to strong investor demand, Brickington agreed with the Joint Bookrunners to increase the size of the Placing to 38.7 million shares, representing 12.0 per cent. of the issued share capital of the Company. The Placing is expected to settle on a T+2 basis, on 2 December 2016. The Company is not a party to the Placing and will not receive any proceeds from the Placing.
Following the Placing, Brickington retains a beneficial interest in 69,582,169 Ordinary Shares, representing 21.6 per cent. of the voting rights of the Company. Brickington has agreed not to dispose of any further Playtech shares for a period of at least 180 days, subject to customary exemptions.
The Placing was conducted via an accelerated book build through UBS Limited ("UBS"), Canaccord Genuity Limited ("Canaccord Genuity") and Credit Suisse Securities (Europe) Limited ("Credit Suisse") (the "Joint Bookrunners"). Shore Capital Stockbrokers Limited ("Shore Capital") acted as co-lead manager in connection with the Placing.