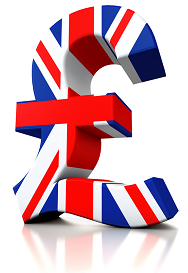 LeapRate Exclusive… LeapRate has learned that US financial regulatory body the National Futures Association (NFA) has issued a directive to all licensed forex brokers in the country, indicating that they must cut leverage and raise margin requirements on all GBP currency pairs.
The new required minimum margin on both new trades and existing positions is 5% for GBP pairs – meaning max leverage of 20x. The new leverage / margin rules kick in today, November 7, as of 5pm CST.
NFA-mandated maximum leverage on other major forex pairs is 50x (or 2% margin), and 20x on all other FX transations.
The NFA stated its decision is due to the impending Brexit talks, which it clearly believes will lead to increased volatility in the British Pound, possibly including prices spikes.
The changes will affect the clients of NFA regulated firms such as FXCM Inc (NASDAQ:FXCM), Gain Capital Holdings Inc (NYSE:GCAP), Oanda, and the licensed introducing brokers which serve them.
The NFA's full directive sent to licensed FDMs reads as follows.
---
Notice I-16-25
Immediate attention required – Financial Requirements Section 12 – Increase in required minimum security deposit for forex transactions
NFA Financial Requirements Section 12 requires FDMs to collect and maintain a minimum security deposit of 2% of the notional value of transactions in 10 listed major foreign currencies and 5% of the notional value of other transactions. Importantly, Section 12 also permits NFA's Executive Committee to increase these requirements under extraordinary market conditions.
Given the recent events involving the U.K. exiting the European Union (Brexit) the Executive Committee has determined to increase the minimum security deposits required to be collected and maintained by FDMs under Section 12 for currency pairs involving the British pound to a minimum of 5%. This increase is effective as of 5 p.m. (CST) on November 7, 2016 and remains in effect until further notice.
FDMs are also reminded that the Executive Committee raised the minimum security deposit required to be collected and maintained under Section 12 for currency pairs involving the Mexican peso to a minimum of 6% in January 2015. Given the recent volatility surrounding the Mexican peso, each FDM must ensure that it continues to adhere to this increased security deposit amount.