Continued fallout from the ban of FXCM Inc (NASDAQ:FXCM) and its co-founders Drew Niv and William Ahdout from the US forex sector…
Institutional Forex ECN FastMatch, in which FXCM holds an equity stake, announced that Mr. Niv and Mr. Ahdout have left the FastMatch board of directors, effective immediately.
They have been replaced by two senior executives from Leucadia National Corp (NYSE:LUK), Leucadia President Brian Friedman and Managing Director Jimmy Hallac.
(To anyone who didn't yet understand who has really been calling the shots at FXCM since January 2015, this should provide another example).
And in an apparent attempt to distance itself from FXCM and its current troubles, FastMatch was quick to point out in a brief press release that 'FXCM is a passive minority owner of FastMatch. FastMatch operates as a completely independent entity of FXCM with no operational dependencies between two firms.'
FastMatch has been doing very well the past year, growing its average daily volumes from the $8-10 billion ADV range up to above $15 billion most of the past few months.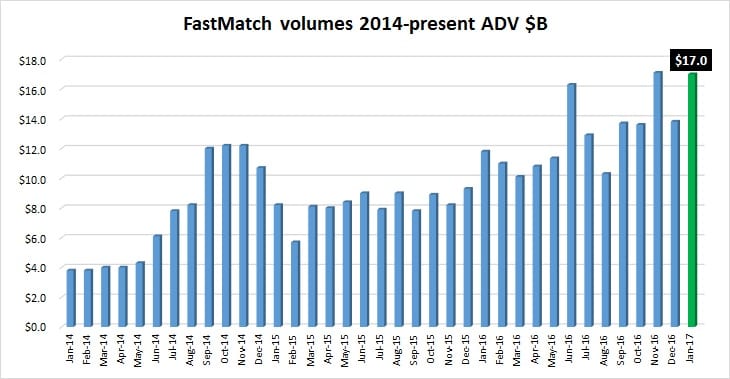 FastMatch is jointly owned by FXCM and commercial banks Credit Suisse Group AG (ADR) (NYSE:CS) and BNY Mellon Corp (NYSE:BK). FastMatch's senior management including CEO Dmitri Galinov and CTO Vladislav Rysin both came from Credit Suisse before setting up FastMatch.