LeapRate Exclusive… LeapRate has learned via regulatory filings made in Poland that Warsaw-based X Trade Brokers Dom Maklerski SA (WSE:XTB), which operates the XTB.com retail forex brokerage as well as the X Open Hub platform business has made changes to its management and board.
We expect the company to make a formal announcement shortly.
Out is longtime CEO Jakub Maly (pictured above), who was dismissed as President of the Management Board and as CEO of XTB. Maly had been with the XTB Group for 10 years, serving as the director of the company's branch in the Czech Republic for 5 years before joining the Management Board in 2012 and then becoming CEO in 2014.
Apparently this was simply a case of the company's ownership and board not being pleased with the slow start out of the gate XTB has had following its IPO earlier this year, or its growth strategy under Maly. XTB went public on the Warsaw exchange back in May at a valuation of about $350 million. However the company's shares have drifted downward, trading now in the zl 7.00 range, off about 39% from their zl 11.50 IPO price.
XTB reported weak Q3 2016 results, with Q3 revenues coming in at 42.8 million zlotys (USD $11.0 million), down a whopping 55% YoY from last year's Q3 Revs of 95.7 million zlotys. In the first two quarters of 2016 XTB averaged revenue of 56.9 million zlotys, 25% more than in Q3.
Taking over on a temporary basis from Maly is XTB co-founder Jakub Zablocki. Also being added to XTB's Management Board are Omar Arnaout, currently regional director for XTB Poland, Germany, Hungary and Romania and Philip Kaczmarzyk, Director of Trading at XTB.
We expect more management changes from XTB in the near future, including a permanent replacement for Mr. Maly.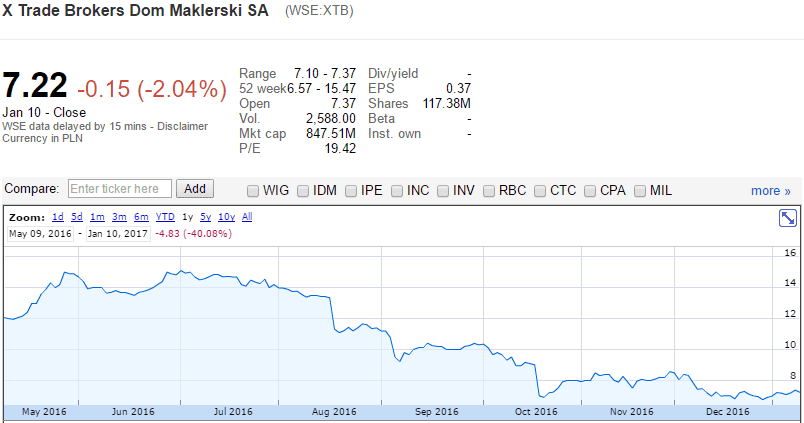 XTB share price on Warsaw Exchange, IPO to present. Source: Google Finance.