Breaking Forex News… It looks like the currency markets are in for another volatile week.
Following weekend comments attributed to British Prime Minister Theresa May – that in a speech later this week she will apparently outline a Hard Brexit plan – the British Pound began the week down nearly 2% in early Monday trading in Far East markets.
The benchmark Cable GBPUSD was changing hands at below 1.20 early Monday, its lowest level since a brief stint below the $1.20 level in early October, and closing in on a 32-year low dating back to 1985.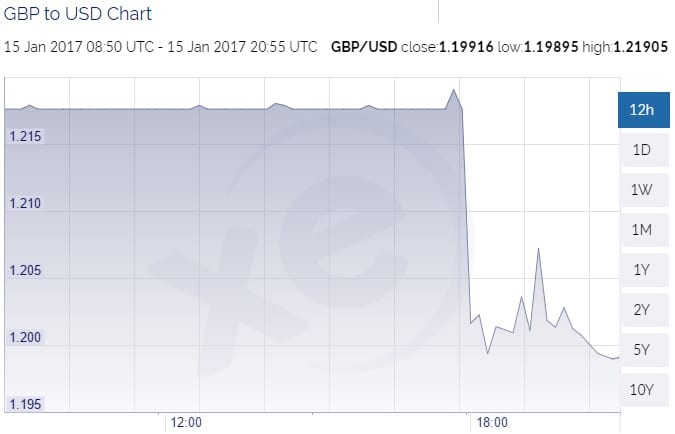 GBPUSD trade early Monday. Source: XE.com.
According to sources attributed to those close to the Prime Minister, May will be outlining in a speech later this week her plan for a Hard Brexit. The plan will apparently focus on the UK regaining full control of its borders, taking full control of immigration, and negotiating individual trade deals with countries both within the EU and without.
The tradeoff will be a full withdrawal from tariff-free trade with EU member countries.
We reported last week that TheCityUK, the lobby group representing leading UK financial institutions, was also resigned to a Hard Brexit as far as financial regulations go. TheCityUK has hit a brick wall with both UK and EU government officials in its attempt to keep in place some form of UK-EU financial license passport, which has been at the heart of the MiFID system now in place. Passporting has allowed licensed financial institutions in one country to fully serve clients in the other EU countries.
Instead, TheCityUK is pushing for a more realistic Equivalence system to replace passporting. Equivalence would allow service providers from countries which are deemed to have 'equivalent' regulatory standards to trade freely across borders with clients in the country, under the client's home country laws and regulations. However, Equivalence would need to be agreed upon by the UK on a country by country and product by product basis. It is also possible that angry EU countries may vindictively refuse to grant Equivalence status to UK financial institutions.