This article was submitted by Michael Stark, market analyst at Exness.
---
While the focus so far this week remains on plans for new fiscal stimulus in the USA, shares in Europe mostly retreated this morning GMT amid speculation around tighter restrictions on travel. The main events in markets this week are the meeting of the Federal Open Market Committee on Wednesday night GMT plus a number of big earnings releases, so this preview of weekly forex data looks at AUDUSD, GBPNZD and USTEC.
There wasn't much action among central banks last week, with no significant updates from the European Central Bank, and this week is likely to be similar. The Fed's meeting on Wednesday probably won't bring much new information to markets but any commentary on how fiscal policy might affect QE over the next few months is likely to drive some short-term volatility.
The focus of regular data this week is on tomorrow morning GMT's claimant count change from the UK. Sentiment in Australia and New Zealand's balance of trade are key after this, with income and spending in the USA rounding off the big releases on Friday.
Earnings season continues apace in stock markets, with a number of the largest companies in the world by market cap reporting earnings this week, including Apple, Tesla, Microsoft and Facebook. Many tech shares are likely to fluctuate more this week compared to 2021 so far.
Aussie dollar-US dollar, daily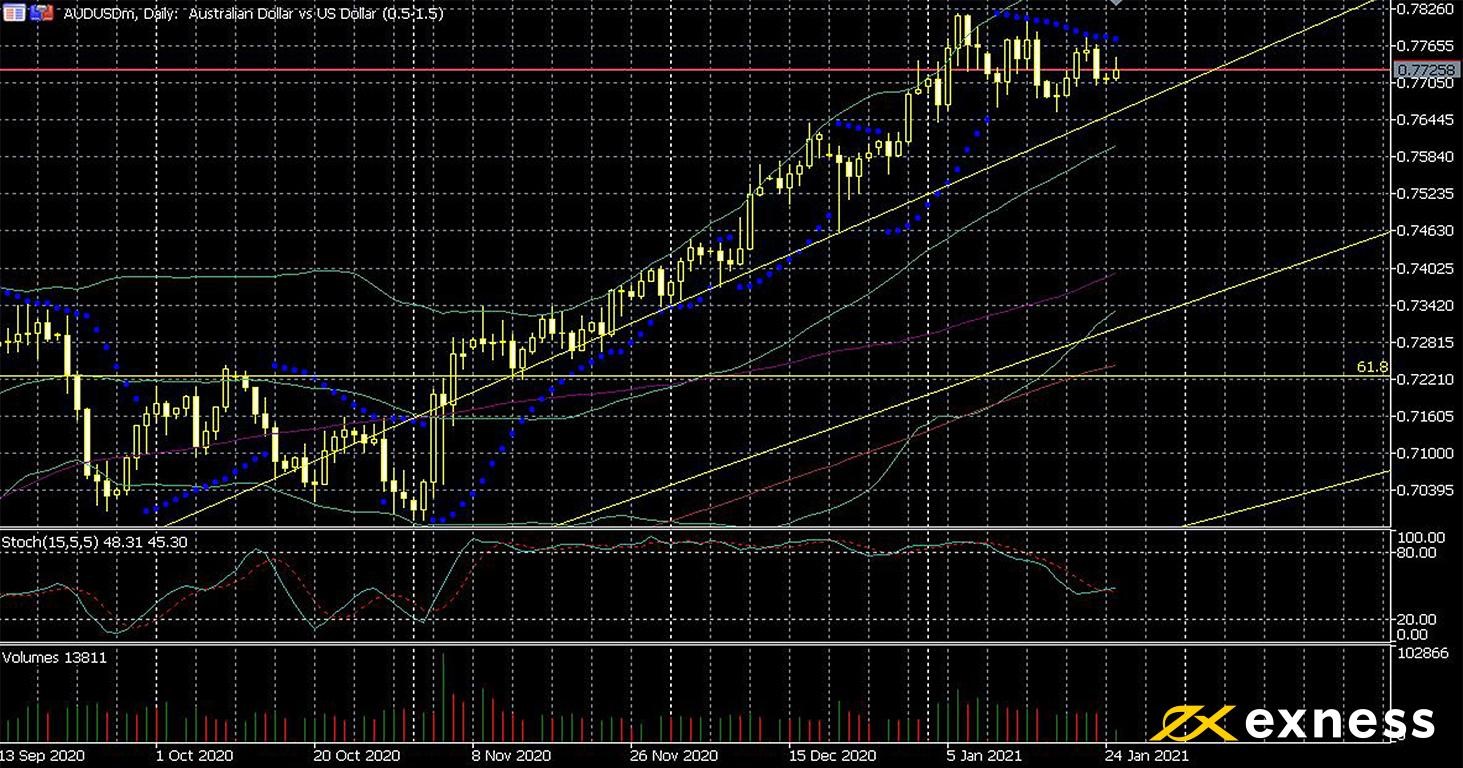 The general trend back towards 'risk on' has helped trade-sensitive currencies like the Aussie dollar to make gains since the end of last year combined with the US dollar's losses in most of its pairs. Rising production inflation around the world but especially in China has been a positive factor for countries like Australia which depend on exports of commodities.