LeapRate Exclusive… LeapRate has learned that Finsa Europe Ltd, which operates the Core Spreads financial spreadbetting and CFDs brand, has posted a net loss of £135,000 for 2017 (year ended November 30) versus a net profit of £147,000 in 2016.
The loss came as Core Spreads grew Revenues from £8.0 million in 2016 to £11.4 million (USD $16.1 million), with much of the growth coming internationally, in the Far East.
LeapRate spoke with Finsa Europe and Core Spreads CEO Stuart Lane, who had the following to say:
We undertook substantial investment during 2017 to develop the product and the client acquisition streams as per our strategic plans, and are delighted in the growth of revenue throughout the year as a result. 2018 has started brightly, with record revenue figures posted in January and February, although we expect and have accounted for a reduction in volume from the middle of the year once ESMA's regulatory changes take effect.
We had exclusively reported back in February that Core Spreads' controlling shareholder, Jasper White, put an additional £2.8 million of capital to support the company's growth, as well as the upgrade of its FCA license from that of a "125K" matched principal broker, to a "730K" principal license. The license upgrade was formally approved by the FCA on December 1, the day after fiscal year-end.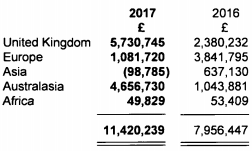 As noted, much of Core Spreads' growth came outside of its home UK market. While UK Revenues more than doubled, from £2.4 million to £5.7 million, the company's business Australasia grew by more than 4x from £1.0 million to £4.7 million.
The growth came at a cost, however. The company doubled its employee base from 15 to 30. Core Spreads' admin expenses ballooned from just £861,000 the previous year to £4.1 million, eating up all and more of the company's £4.0 million Gross Profit.
Client funds held by Core Spreads increased 31% during 2017 from £4.0 million to £5.3 million ($7.5 million).
During the year Finsa set up a new entity called Finbit Limited, which began trading in May 2017 as a derived data provider to the company's spread betting and CFD trading platforms. Finbit contracts directly with data vendors and exchanges where the underlying futures and cash markets are traded.
Core Spreads was first established in 2009 as The Trader Management Company Ltd., but was basically inactive until Jasper White, the longtime CEO of sports betting consultancy Gambit Research, bought control of the company in 2014. The company's name was then changed to Finsa Europe Ltd and the operating name of Core Spreads was adopted. Mr. White brought in a management team led by CEO Stuart Lane, formerly Head of Sales and Marketing at ETX Capital who had also worked at IG Group Holdings plc (LON:IGG). Other senior team members include Andy Merry, formerly with London Capital Group Holdings plc (LON:LCG), Cantor, and William Hill who serves as COO and Head of Compliance. During 2017 the company's CFO Rod Martenstyn left to GKFX, where he was recently named interim CEO.
Finsa Europe's 2017 income statement follows: