LeapRate Exclusive… LeapRate has learned via regulatory filings in the UK that FCA regulated brokerage and platform white label group FINSA Europe Ltd has had a very successful 2016, growing Revenues by 60% to £8.0 million for the year, versus just under £5.0 million in 2015.

FINSA Europe operates its own spread betting  and CFDs trading brokerage brand Core Spreads, where we believe the company derives most of its Revenues. FINSA also provides an FCA-licensed umbrella to eligible third party brokers which white label its CoreTrader platform, or its adapted CoreMT4 platform. Brokers acting as an Appointed Representative of FINSA Europe in this way include TradeCrowd and FinancialSpreads.com.
Despite the growth in Revenues, FINSA Europe operated an near-breakeven in 2016 (financial year ended November 30), with a net profit of £147,000 versus £13,000 in 2015.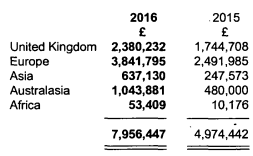 From a geographic perspective (see table at right), FINSA actually has a fairly nice distribution and is not dependent on any one region. FINSA's home UK market only accounts for 30% of Revenues, with clients from continental Europe (48%) and Australia / New Zealand (13%) showing a lot of growth.
FINSA Europe's income statement for 2016 follows: