We had reported late last month that Saxo Bank had seen slowing activity and revenues in the second half of 2017 – something we believe every other FX industry blog missed, since the company didn't really break that out in its year-end report.
However that seems to have quickly corrected itself in 2018, at least so far.
After reporting one of its best months ever in January, with multi-asset volumes approaching $500 billion ($495.8 billion, to be precise) including FX trading volumes of $366 billion, the Copenhagen-based Saxo Bank outdid itself in February, with what was clearly its best month on record:
total trading volumes of $612.1 billion – the best volumes result we've ever seen by a (primarily) Retail FX broker outside of Japan
FX trading volumes of $433.2 billion, or 71% of the total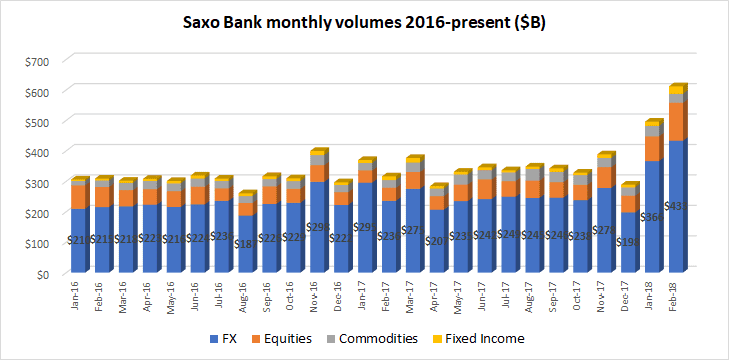 Beyond FX, Saxo Bank also saw a very strong month in its Equities business, with volumes up 54% MoM to $125 billion, and Fixed Income up 82% to $25 billion. Only Commodities were slower, down 16% from January to $29 billion.
We understand from company management that Saxo Bank has also had a strong intake of new clients over the last quarter (end of 2017 and early 2018), that supported the growing trading activity when volatility and opportunities came back in to the market.
And we'd note that all this was accomplished in a "short" trading month, with February having just 20 trading days, versus a typical 22 or 23 day trading month (January was 22).
Outside the volumes arena Saxo Bank has had a very busy start to the year, with Saxo Bank's new ownership group working fast to reshape the company. Saxo Bank announced a deal to sell its Danish private banking business Privatbank for $60 million. Saxo also continued to add senior talent, hiring Sberbank executive Damian Bunce as its new Chief Client Officer and HSBC executive Ulrik Ross as Head of Group Treasury. At the top, Henrik Normann replaced Lone Fonss Schroder as Chairman of Saxo Bank at the end of February.