Copenhagen based multi asset brokerage group Saxo Bank A/S has released its financial results for 2017, showing moderate growth and improved profitability over 2016, but also revealing that the company's business slowed considerably in the second half of the year.
For the full year 2017, Revenues at Saxo Bank came in at DKK 3.03 billion (USD $501 million), up 3% over DKK 2.93 billion in 2016. EBITDA increased from DKK 845 million in 2016 to DKK 932 million ($154 million) in 2017.
However as compared to 1H-2017, second half Revenues declined by 6% to DKK 1.47 billion, and EBITDA was off 12% to DKK 436 million.
Still, overall a fairly strong year for Saxo Bank, which underwent some major changes during the second half of the year including a change-of-control, which saw China's Geely Group and Finland's Sampo Oyj (HEL:SAMPO) buy out the holdings TPG Capital and SinarMas in the company.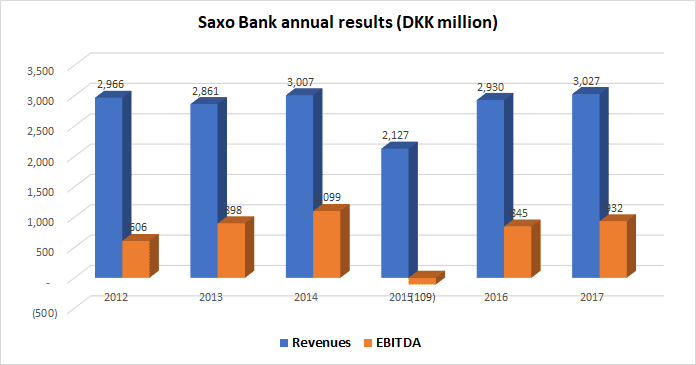 Saxo Bank continued to strengthen its capital position with the total capital ratio for the group reaching 22.7% as of the end of 2017 compared to 19.5% at the end of 2016, thus retaining a comfortable buffer.
Founded in 1992, Saxo Bank has 1,594 employees across offices in 16 countries.
Commenting on the results, Kim Fournais, CEO and co-founder of Saxo Bank, said:
The 2017 results are further evidence of the strength of Saxo Bank's scalable business model as a fintech and regtech specialist focused on multi-asset trading and investment for direct clients as well as delivering 'Banking-as-a-Service' to wholesale clients. Despite low market volatility, Saxo has attracted record numbers of new direct and wholesale clients.

A new high in client collateral deposits is a further testament to Saxo Bank's multi asset offering which enables clients to trade in all market cycles.
With a strong capital base we will continue to invest in and improve our client experience and technology to enable us stay at the forefront of client focused digitisation.

The results confirm that Saxo Bank is on the right path and we will continue to prioritise the ongoing development of best in class technology to ensure our clients and partners benefit from the best trading experience with regards to product, platform, price and service.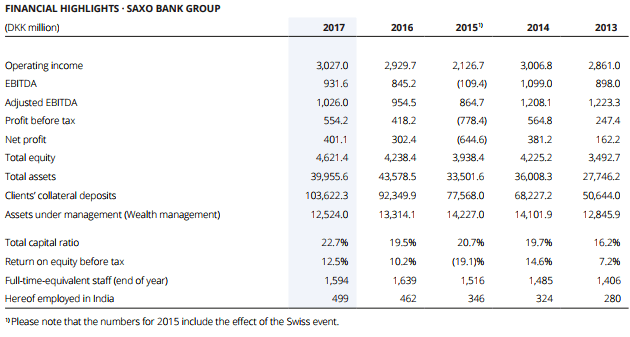 Saxo Bank's full 2017 annual and financial report can be downloaded here (pdf).