Copenhagen based multi asset broker Saxo Bank has made another senior addition to its executive management team, announcing the appointment of Damian Bunce as the company's new Chief Client Officer (CCO).
Mr. Bunce's appointment becomes effective February 19, 2018. He joins Saxo Bank's executive team and will report directly to Kim Fournais, CEO and Founder. He will be based in Saxo Bank's headquarters in Copenhagen.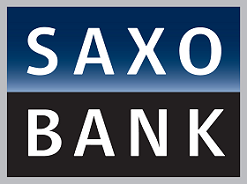 In his new role, Damian Bunce will assume overall responsibility for the origination, retention and growth of Saxo Bank's direct and wholesale business and drive growth through its network of worldwide offices.
Damian Bunce joins Saxo with over 25 years of experience in the financial services industry with particular expertise in electronic trading across asset classes gained through his work with a number of global banks in London, New York, Tokyo and Moscow.
Mr. Bunce spent nine years at Goldman Sachs Group Inc (NYSE:GS) where he led electronic execution sales for Europe, followed by three years at Barclays Capital where he was Managing Director and head of European electronic sales trading and distribution. He also spent six years in Moscow, most recently as the Managing Director and Global Head of Electronic Markets at the Sberbank CIB unit of Russian banking giant Sberbank Rossii PAO (MCX:SBER), where he successfully built and led the firm's award winning wholesale eFX business as well as running the bank's domestic retail brokerage business.
Saxo Bank has made a number of senior management changes over the past few months. In December the company hired Robert Hjorth to the newly established position as Head of Strategy. In November, Saxo Bank added longtime ETX Capital CEO Andrew Edwards as the CEO of its FCA regulated UK operation.
Commenting on the appointment, Kim Fournais, founder and CEO of Saxo Bank, said:
We are very pleased to welcome Damian Bunce to drive our client-centric strategy, value proposition and the needs of our key customers. His strong track record of delivering results for electronic trading businesses across sales, trading, product management and governance will be extremely valuable in delivering value to both our clients and shareholders. Damian's specialist knowledge and experience complements our quest for continuous growth and scale within our industry.
Commenting on his appointment, Damian Bunce added:
I am honoured to be joining Kim and his management team at a particularly interesting and pivotal time for Saxo Bank. Saxo has an exceptional and longstanding reputation for innovation in financial technology and I very much look forward to capitalising on those strengths to deliver outstanding results for our clients and growth for the bank.