After a torrid start to the year including record trading volumes across nearly all its product categories in February, Copenhagen based online broker Saxo Bank has reported that March volumes cooled off somewhat, with declines in all areas.
In February, Saxo reported an astounding total trading volume of $612.1 billion – the best volumes result we've ever seen by a (primarily) Retail FX broker outside of Japan. That included FX trading volumes of $433.2 billion, or 71% of the total. March told something of a different story, with FX volumes retreating to $317 billion (down 27% from February), or 67% of a grand total of $472 billion. Still, a strong result by historical standards. By comparison, in 2017 Saxo Bank averaged $245 billion in monthly FX turnover, and $338 billion total.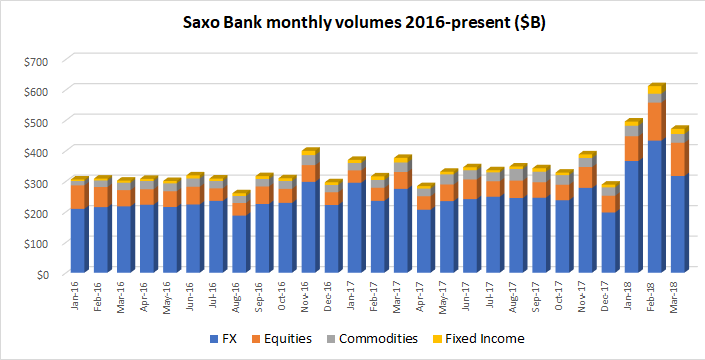 As noted above, Saxo Bank saw volume declines during March in all its product categories including Equities ($109 billion, down 12%), Commodities ($29 billion, -2%) and Fixed Income ($17 billion, -32%).
Outside the volumes arena Saxo Bank has had a very busy start to the year. Earlier this month Saxo Bank released its new institutional-focused trading platform SaxoTraderPRO. In March Saxo expanded further in China partnering with SINA Corp's Valuable Capital, and in Italy via a joint venture with Banca Generali.
All the changes are happening with Saxo Bank's new ownership group working fast to reshape the company. Saxo Bank announced a deal to sell its Danish private banking business Privatbank for $60 million. Saxo also continued to add senior talent, hiring Commonwealth Bank's Vivienne Yu as CEO of Greater China, Sberbank executive Damian Bunce as its new Chief Client Officer, and HSBC executive Ulrik Ross as Head of Group Treasury. At the top, Henrik Normann replaced Lone Fonss Schroder as Chairman of Saxo Bank at the end of February.