Continuing a year-long climb, shares of CFD broker Plus500 Ltd (LON:PLUS) set an all-time high in Thursday trading on the London Stock Exchange.
Plus500 closed up 4.3% to £8.68 per share, its highest ever closing price after setting a mid-day high of £8.80 soon before closing. At its current share price, Plus500 has a market value of £989 million, or nearly $1.3 billion.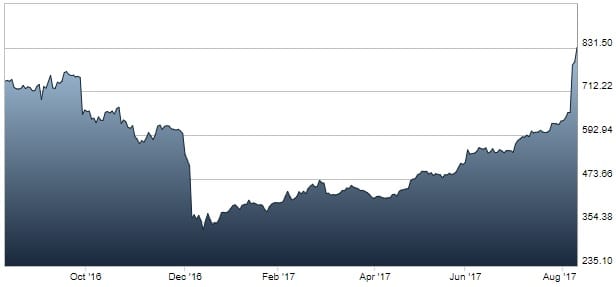 Plus500 one-year share price graph. Source: London Stock Exchange.
Plus500 reported a "monster" quarter earlier this week, with Q2 Revenues topping $110 million – the company's first ever $100M+ quarter – with first half net profits coming in at $90.7 million. Plus500 traded up 19% on the news on Monday, but has continued to climb each day since – up 1% Tuesday, 5% on Wednesday, and as noted a further 4% on Thursday.
Shares of Plus500, alongside those of other publicly traded UK CFD market leaders such as IG Group Holdings plc (LON:IGG) and CMC Markets Plc (LON:CMCX), were hit hard and nearly cut in half back in December after UK regulator The FCA proposed new rules governing leveraged trading, including a hard 50x leverage cap on new and existing positions. The FCA has since delayed its implementation of the new rules until at earliest Q1-2018.
While Plus500 has more than made up the difference since, driven by the company continuing to post great results and a rosy outlook, some of its UK online brokerage rivals are still below that December 2016 water-mark. IG is at 649 pence, versus a 52-week high of 968 pence. CMC Markets is at 148 pence, about half of their 52-week high of 291 pence.