Yesterday may well be known one day as 'FCA Tuesday', the day the UK regulator shook up the online retail trading industry by introducing a hard 50x leverage cap and a ban on bonus inducement payments to retail traders.
Many of the brokers affected by the FCA's new rules regime are now regrouping and reevaluating their marketing and client acquisition plans, and even their entire business models. The effects of yesterday's news will be felt for years to come.
However the stock market reacted quite swiftly to the news, with traders dumping the shares of publicly traded FCA regulated Forex and CFD brokers. In just one day, traders lopped off more than $2 billion from the market value of these companies, selling first and asking questions later.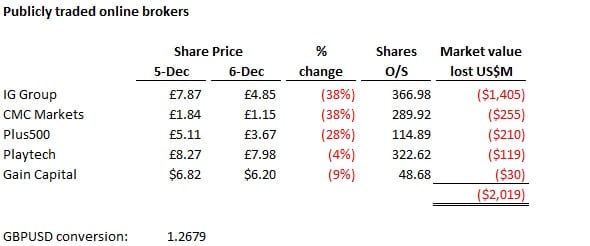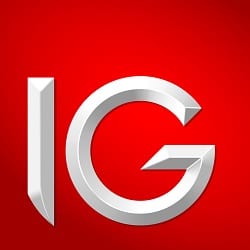 More than half of the market value loss was, understandably, at UK market leader IG Group Holdings plc (LON:IGG), which traded down 38% on the day. The UK market accounts for about half of IG's Revenue base, explaining the (over?) reaction. After steadily climbing for five years, IG shares were knocked back Tuesday to where they last were in early 2013.
CMC Markets Plc (LON:CMCX) also lost 38% of its value on Tuesday. CMC shares, at £1.15, are now less than half their value at CMC Market's IPO in February. CMC does about 40% of its business in the UK.
Plus500 Ltd (LON:PLUS) shares fell 28% on Tuesday – somewhat less than IG and CMC, as Plus500 UK accounts for just about 20% of the company's revenues.
The FCA's moves rippled across the Atlantic Ocean, with New York based Gain Capital Holdings Inc (NYSE:GCAP) trading down more than 9% on the news, and prompting Gain Capital to issue a formal statement on the subject.
Will today be Bounceback Wednesday? Or, will the market take a wait and see attitude before stock market investors warm up again to the Forex and CFDs industry?