CFD broker Plus500 Ltd (LON:PLUS) released its interim financial results for the First Half of 2017 this morning, indicating some quite amazing accomplishments. Quarterly revenues topped $100 million for the first time ever at Plus500, coming in at a whopping $110.9 million – 21% better than Plus500's previous best-ever quarter (Q4-16).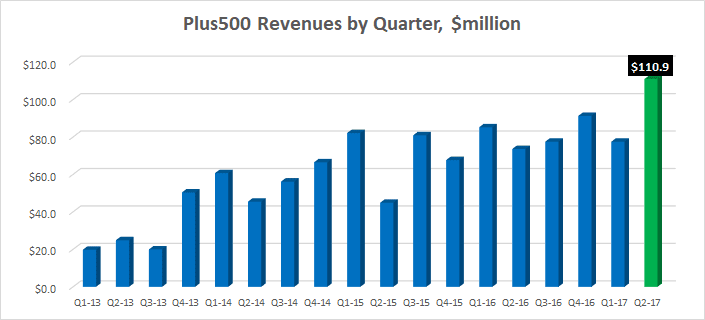 And the top-line results significantly improved Plus500's bottom line, with the company earning net profit of $90.7 million in the first half of 2017 for the #2 UK CFD broker.
Not surprisingly, Plus500 shares reacted well to the news, trading up (as of the time of writing) by 13% to hit 745 pence, Plus500's highest share price since last December (when now-delayed FCA rules limiting leverage on CFD trading were announced).
The highlights from the first half of 2017 at Plus500 include:
net profit rose 104% to $90.7 million from $44.5 million in the six months to the end of June
revenues were up 19% to $188.4 million from $158.8 million
8% jump in the number of active clients
43% increase in the number of new clients in the latest quarter
The positive outlook comes despite watchdogs across the EU targeting contracts for difference (CFDs). Last month, the European Securities and Markets Authority (ESMA) shared it would use new powers from the beginning of 2018 to curb the amount that customers can borrow to leverage their bets and added that will limit the marketing of CFDs. This followed a surprise announcement in the beginning of December by the UK's FCA that it was launching its own crackdown.
On 4 August 2017, the Company declared an interim dividend in amount of $27.21 million ($0.2387 per share) calculated based on the number of issued shares as of 4 August 2017 and an additional buyback programme to buy back $27.21 million worth of the Company's shares.
Share purchases will take place in open market transactions and may be made from time to time depending on market conditions, share price, trading volume and other factors. The Company has appointed Liberum to manage an irrevocable, non-discretionary share buy back programme to repurchase on its behalf, and within certain parameters.
The Company and its directors have no power to invoke any changes to the above programme and they will be conducted at the sole discretion of Liberum.
The additional buy back programme will run from 7 August 2017 to 1 February 2018.
The maximum number of shares that may be acquired pursuant to the two buy back programmes is 11,488,837, which represents 10% of the Company's issued share capital.
The buy back programme will be funded from the Company's current cash balances.
Chief executive Asaf Elimelech commented:
Plus500 achieved record first half results, significantly ahead of market expectations. New Customers continue to join and the proportion of both New and Active Customers originating from well regulated markets is growing and continues to expand the Group's community of high quality customers.
We believe that the current regulatory changes will promote a consistent set of conduct rules across all European jurisdictions which will ensure a more sustainable industry, of which we intend to continue to be one of the leaders.
Overall, our expectations are that with the continuance of the current momentum we will deliver strong year-on-year growth in 2017, which we expect to carry forward into 2018.