LeapRate Exclusive… LeapRate has learned via regulatory filings that US based investment banking giant Morgan Stanley (NYSE:MS) has cut its long-held position in FCA regulated CFD broker Plus500 Ltd (LON:PLUS) from 6% to under 3%.
Morgan Stanley has been a long-term shareholder in Plus500, with its position in the company hovering at around 6% for more than two years, making Morgan Stanley one of the largest outside shareholders of Plus500.
However after a recent run-up in Plus500's share price to all-time highs, it appears as though Morgan Stanley is taking the opportunity to lock in (some very large) profits and cash out most, if not all, of its position.
Plus500's share price rise is, of course, not without good reason. The broker reported what we described at the time as a 'monster' Q1, with record quarterly Revenues of $297 million – more than double the company's previous best result. And, most of the Revenue increase fell straight to the bottom line with Q1 EBITDA coming in at an eye-opening $237 million.
Plus500 attributed its great results to a combination of favorable market conditions (read: currency volatility), plus a rapid pickup in new client signups thanks mainly to interest in cryptocurrency trading. While the company recently reiterated its bullish expectations for full-year 2018 results based on what has continued into Q2, it admitted that its Q1 result might not be replicated. And, that new restrictive measures governing online trading in Europe introduced by ESMA which are scheduled to be implemented this summer, might have a dampening effect on future trading activity and results.
At its current share price of £16.68, Plus500 has an overall market cap of £1.9 billion (USD $2.5 billion). Before selling, Morgan Stanley's 5.52% position in Plus500 was worth £105 million ($140 million), which as far as we can tell is worth about four times what Morgan Stanley paid for (at least most of) its shares more than two years ago. The filings indicate that Morgan Stanley's position is now below 3%, but do not indicate if the entire position was sold or not.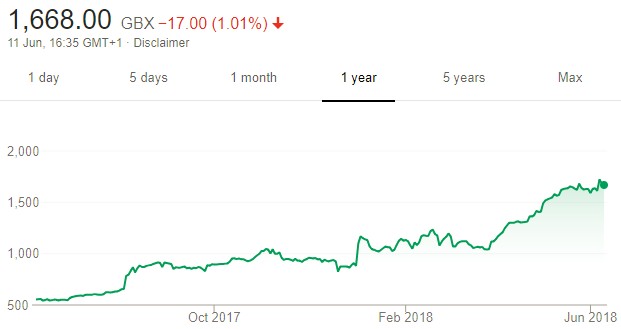 Plus500 share price graph, one year. Source: Google Finance.