After experiencing a steady decline for the past 18 months, shares of Hong Kong based Retail FX broker KVB Kunlun Financial Group Ltd (HKG:8077) more than doubled in Thursday trading.
KVB shares closed at HK$ 0.82 Thursday, after sitting at just HK$ 0.40 on Wednesday.
The big move, up to a new 52-week high for KVB, came after the company announced that it has submitted a formal application to the Hong Kong Stock Exchange to move its share listing from the "Growth Enterprise Market" (or GEM) to the HKEX Main Board.
KVB stated in its application that the Board expects that the proposed transfer of listing will enhance the corporate profile of the company and provide increased visibility and recognition of the KVB Group. This will, in turn, add to the competitive strength of the KVB Group as well as increase the confidence of its investors and stakeholders. The Board also expects that the Main Board trading platform will enhance trading liquidity of the shares as well as the fundraising capability of the KVB Group.
The company also stated that the definitive timetable for the proposed
transfer of listing has not yet been finalised, and that there is no assurance that the company will proceed with the transfer.
KVB has appointed Lego Corporate Finance Limited as the financial adviser to the company for the proposed transfer of listing.
It is interesting that this is what moved KVB shares. The company had seen a series of poor financial results from late 2015 through to earlier this year, until just a few weeks reporting that KVB Q2-2017 Revenues had more than doubled from Q1 (see graph below). Interestingly, that news barely moved the stock, while a proposed move of the share listing from GEM (akin to the London Stock Exchange's AIM market) to the Main Board created a lot of sudden buying demand for the stock.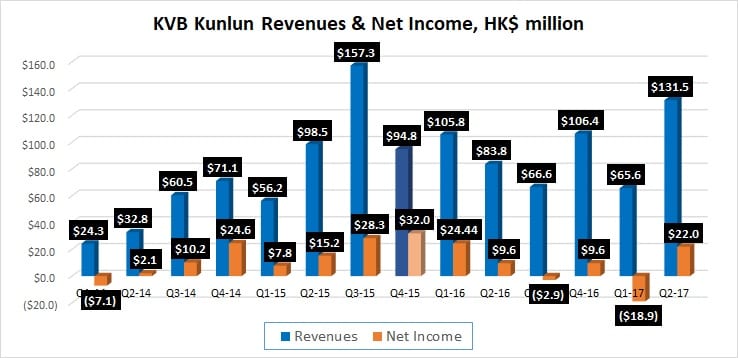 The full announcement on the proposed listing move can be seen here (pdf).