It looks like the Q2 results profit warning issued by Hong Kong based retail forex broker KVB Kunlun Financial Group Ltd (HKG:8077) was something of a head-fake.
While required by Hong Kong Exchange rules since overall, the company's first half 2017 results were significantly down from first half 2016, KVB actually had a much-improved second quarter of the year. In fact, one of its best quarters ever (see chart below).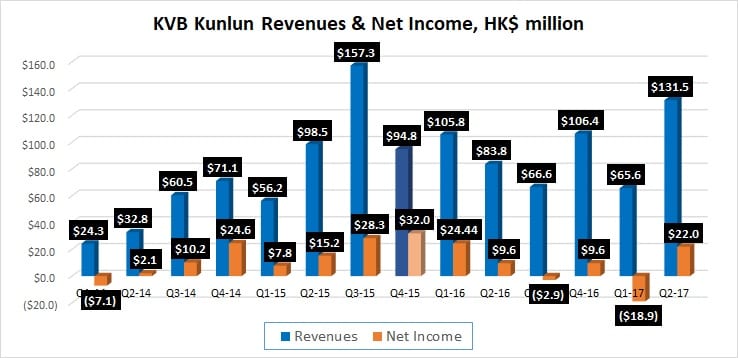 KVB reported that second quarter revenues came in at HK$131.5 million (USD $17 million), more than double the HK$65.6 million the company brought in during Q1.
On the bottom line, KVB reported Q2 profit of HK$22.0 million (USD $2.8 million), much improved from a HK$18.9 million Q1 loss.
KVB, which is owned 60% by Chinese financial giant CITIC Securities Company Limited (SHA:600030), didn't offer any descriptive information for the reason that Q2 was so much better. As far as the poor Q1, KVB had blamed its large loss on:
(i) the decrease in leveraged foreign exchange and other trading income mainly resulted from the low market volatility;
(ii) the increase in referral fee and other charges mainly caused by the increased commission rebate to external parties (including margin business and PRC operations); and
(iii) the increase in administrative expenses mainly due to increased marketing expenses, regulatory and compliance expenses, computer services expense and customer promotion expenses as the Group expanded its business operation.
KVB's complete first half 2017 results report can be seen here (pdf).