Following a strong comeback in the second half of 2017 which followed nearly two years of weak results, Hong Kong retail forex broker KVB Kunlun Financial Group Ltd (HKG:8077) has released its 1H-2018 financials indicating that activity slowed somewhat during the first six months of the year.
Overall, Revenues at KVB Kunlun for the first six months of the year came in at HKD 306.2 million (USD $39.0 million), down 4% from HKD 317.8 million in the second half of 2017. However, compared to the January-to-June period of 2017 KVB's Revenues were up nicely, by 55%.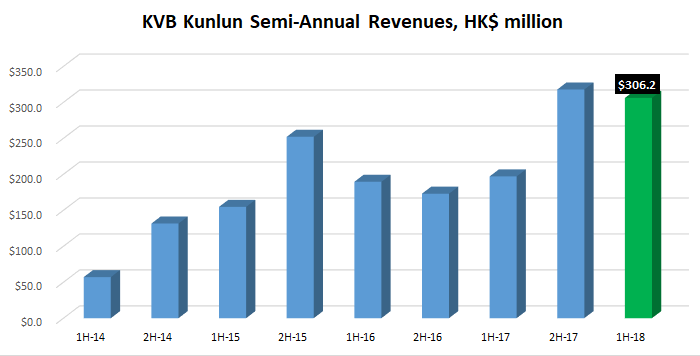 KVB had a net profit of HKD 10.4 million for the six months ended June 30, 2018, compared with a net profit of HKD 3.1 million for the first six months in 2017. However net profit paled compared to the HKD 28.1 million earned in the second half of 2017.
As far as future plans go, KVB stated that the company is looking to expand operations in the worldwide overseas Chinese communities, increase the range of its financial services and products, further upgrade its online trading platform, and develop the high net worth and sophisticated institutional clients segment.
KVB is 59% owned by China's CITIC Securities Company Limited (SHA:600030).
During 1H-2018, as was exclusively reported by LeapRate, KVB Kunlun raised HK$200 million (USD $26 million) in capital, in an investment led by Chinese insurance and investment giant Ping An Insurance (Grp) Co of China Ltd (SHA:601318). The investment was made via a convertible bond offering. The new investors, once they convert, will own 16% of the company. CITIC will see its holding diluted from 59% to just under 51%. The bondholders will also be granted one seat on KVB's board of directors.
KVB's full report on its first half 2018 results can be seen here (pdf)