UK online trading leader IG Group Holdings plc (LON:IGG) has reported its financial results for 2018 (IG has a May 31 fiscal year end), sporting record revenues and profits – but indicating that results will likely be lower in 2019 due to the CFD leverage caps being instituted by ESMA, scheduled to come into effect next month.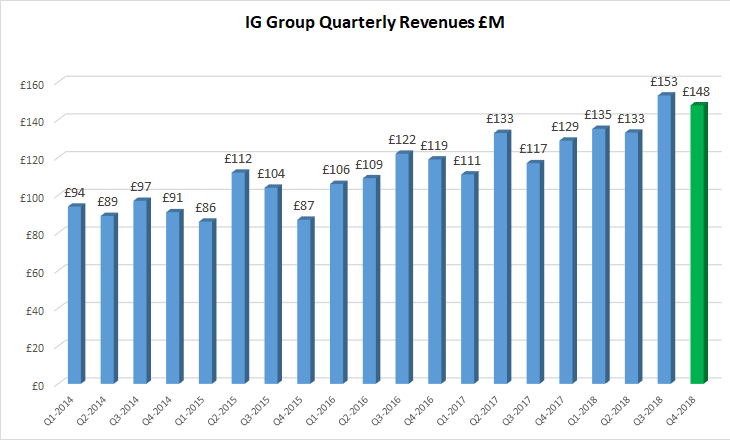 Overall for FY 2018:
Financial Summary
Net trading revenue £569.0 million (FY17: £491.1 million) – up 16%
Operating expenses excluding variable remuneration £254.2 million (FY17: £252.5 million) – up 1%
Operating profit £281.1 million (FY17: £213.4 million) – up 32%
Operating profit margin 49.4% (FY17: 43.5%) – up 5.9% points
Own funds generated from operations £320.9 million – 114% of operating profit
As far as the future goes, repeating comments it has made earlier IG stated that it believes that the reduction in historic revenue from the implementation of the measures announced by ESMA, taking into account the expected proportion of revenue that will be generated from clients categorised as professional, would have been approximately 10%, assuming no benefit from further mitigating action taken by the company or its clients. The company expects that its revenue in FY19 will be lower than in FY18, reflecting the impact of the regulatory changes in the UK and EU.
Operating expenses excluding variable remuneration are expected to increase in FY19 reflecting the company's continued investment in product and platform development and additional headcount in sales and client service.  Total operating costs (operating expenses plus variable remuneration) in FY19 are expected to be at a similar level to the £290 million total operating costs in FY18,  reflecting a lower expected charge for variable remuneration. The company does expect to return to growth after FY19.
As far as action being taken, online process that allows clients to request to be categorised as an elective professional launched at IG in mid-November 2017. The proportion of IG's UK and EU revenue generated by clients categorised as professional as at June 30, 2018, was over 40% in the preceding 3 months, and the company continues to expect this proportion to rise to 50%. The company also allows appropriate retail clients affected by the ESMA measures to apply to contract with other regulated Group entities outside the EU.
In addition, new, alternative, OTC leveraged derivative products are under development that are compliant with regulations and that the company believes will be attractive for retail clients.
As far as other initiatives go IG plans the launch of a multi-lateral trading facility (MTF) for the European market for the second half of FY19. A US OTC FX business is expected to launch in the first half of FY19. And IF said that it IG will continue to look to acquire licences to operate in additional jurisdictions.
IG still relies heavily on its home UK market, with UK clients responsible for 44% of the company's Revenues in 2018 – although that was slightly down from 45% in 2017. The APAC region was IG's fastest growing in 2018 at 20% over last year.
Peter Hetherington, Chief Executive, commented:
The Company delivered record revenue, operating profit and earnings in FY18, driven by strong growth across all regions and products, and has continued to make good strategic and operational progress.  We will continue with the investments we are making to deliver future growth and to position the business to benefit from the strong demand for our products.

We are pleased that there is now greater clarity around the nature and extent of regulatory change in the UK and EU affecting the CFD industry.  As ESMA's product intervention measures are focused on the CFD industry, they risk creating an unlevel playing field by giving an advantage to other forms of leveraged trading products which are offered to retail clients. IG has a long history of successful innovation, and is committed to offering the widest possible range of trading opportunities to appropriate clients that are fully compliant with regulations.

IG has delivered a sustainable business for more than 40 years by placing good client outcomes at the heart of everything it does.  IG's business model ensures that its interests as a business are aligned with the interests of its clients, which sets it apart from most companies in the industry.   IG will continue to lead the way in the industry, and the business is well positioned to mitigate the impact of regulatory change and to continue to deliver sustainable growth and attractive shareholder returns.
IG Group's full release on FY-2018 results can be seen here.