LeapRate Exclusive… Further to our exclusive report last week about a number of pending changes at CySEC and FCA regulated retail forex broker FxPro, especially in the UK, LeapRate has learned that the company has gone live today with its new spread betting platform, FxPro Edge.
Visitors with a UK IP address going to the FxPro website will now see a new spread betting option.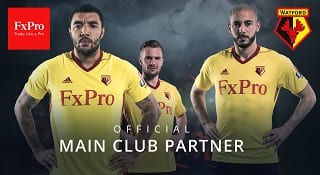 As part of its new push into the UK retail trading sector, FxPro also formally announced its sponsorship of Premier League football club Watford FC, which we reported yesterday after pictures of Watford players including striker Troy Deeney wearing the new jerseys made it to Twitter.
The agreement with Watford FC is a three-year deal starting at the beginning of the 2017-18 season, which will see FxPro as the main club sponsor and "shirt sponsor" for Watford. Former shirt sponsor 138.com will remain as a minor sponsor, with its logo on players' sleeves.
Spread betting, whose winnings are tax free in the UK, allows traders to speculate on the movement of a particular underlying asset such as a currency pair, a specific share in a publicly traded company, or a share index. The trader can state an amount that he or she is willing to win (or lose) if the underlying asset rises (or falls) by one point. The more it moves, the more the trader wins (or loses). The broker states a spread between the buy and sell price, such that the asset price first nears to clear the spread before the trader can begin winning.
More on FxPro Edge and its new spread betting offering can be seen here, as well as in the following video.