FxPro MT4, FxPro MT5, and FxPro cTrader
Charalambos Psimolophitis
---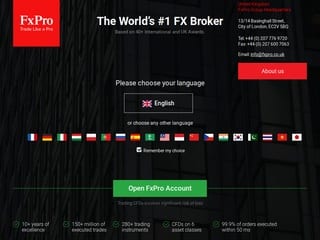 FxPro is an award-winning online broker offering Contracts for Difference (CFDs) on forex, futures, spot indices, shares, spot metals and spot energies. FxPro serves clients in over 150 countries worldwide and offers multilingual customer support 24/5.
Traders are provided with superior order execution with no dealing desk intervention*, and access to a deep pool of liquidity via a wide range of platforms. FxPro is known for maintaining a client-centric approach and remains an active proponent of transparency and fair trading practices.
At FxPro, all client orders are executed anonymously with No Dealing Desk intervention, subject to our Order Execution Policy. Over 99.9% of orders are executed in less than 42 milliseconds, with up to 7,000 orders executed per second.
Deep Liquidity
Gain access to deep liquidity and benefit from the best available bid and ask prices every time you place a trade.
Anonymous Trading
Your orders are executed completely anonymously. Liquidity providers do not have access to your trade characteristics or to any other sensitive information.
Ultra-fast Order Execution
With a previous record of 199,397 orders filled in a single day, FxPro lets you benefit from ultra-fast order execution, with most of client orders filled in under 13 milliseconds.
How Are My Trades Executed at FxPro?
Your trades are executed with Instant or Market Execution, based on your account and order type. Due to the high volumes and direction of our clients' trades, we are able to internally match a great deal of our order flow. This allows us to minimise our risk without interfering with your orders in any way. As not all client positions are hedged, a residual exposure up to our market risk limit remains in house. Excess exposure may be hedged externally.
Why FxPro is not an STP Broker
STP, which stands for Straight-Through-Processing, is one of the most commonly misinterpreted terms in the online trading industry. Often considered to relate to the execution that a client receives from their broker, STP is in fact a post-execution, post-trade communication process between executing counterparties with minimal impact on the speed or price of execution that a retail trader is offered. Though FxPro does use STP technologies, we classify ourselves as NDD as per the true method by which we execute client orders.
Why FxPro is not an ECN Broker
ECN stands for Electronic Communication Network and is frequently wrongly taken to be synonymous with NDD execution. In reality, ECN refers to the anonymous communication between executing counterparties which may, in fact, result in no guaranteed fills and worse pricing for the retail trader. FxPro is a true No Dealing Desk Execution broker, meaning that we execute client orders with no dealing desk intervention.
FxPro UK Limited was granted authorisation by the UK FCA in 2010. FxPro Financial Services Limited received its CySEC licence in 2007 and its FSB authorisation in 2015. FxPro Global Markets MENA Limited is authorised by the DFSA, while FxPro Global Markets Limited is authorised by the SCB.
*Subject to FxPro's Order Execution Policy.