Retail forex broker Exness saw February volumes down 7% MoM from January, coming in at $249 billion. Exness' result follows a similar slowing trend we have seen so far in February from other leading institutional and retail eFX venues.
Even with the slight decline, February's result represented Exness' third best ever month for trading volumes, behind only January's $267 billion (record) volumes and $253 billion in July 2016 powered by post-Brexit volatility in the currency markets.
Exness also saw a record number of active clients during February, with 42,423 customers placing at least one trade.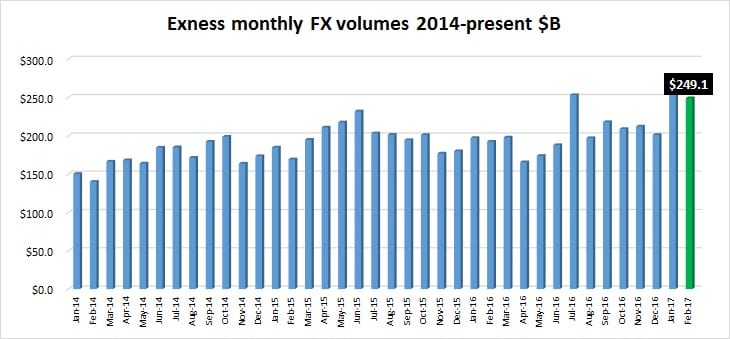 January and February's combined volumes of $516 billion represent a very strong start of the year for Exness, and comes on the heels of a decent 2016 seeing Exness report record volumes of $2.41 trillion for the year, making Exness one of the 10 largest retail forex brokers worldwide.
Last fall, CySEC regulated Exness announced plans to expand in Europe and in the institutional eFX space, backed by a new UK subsidiary and FCA license.
Exness has its volume, client withdrawal and partner rewards figures audited on a quarterly basis by global accounting firm Deloitte. The Deloitte Independent Assurance Report for the most recent quarter (Q3) for Exness can be seen here.