Retail forex broker Gain Capital Holdings Inc (NYSE:GCAP) has reported its 2016 year-end and Q4 financial results, as well as trading volume metrics for the month of February 2017.
And, the results are very mixed.
On the one hand, Q4 was a very strong one at Gain Capital and its Forex.com retail FX unit, following a somewhat down Q3. Revenues in Q4 were up a whopping 60% over Q3 at $115.8 million, with Q4 Net Income of $20.8 million representing one of the company's best-ever quarters.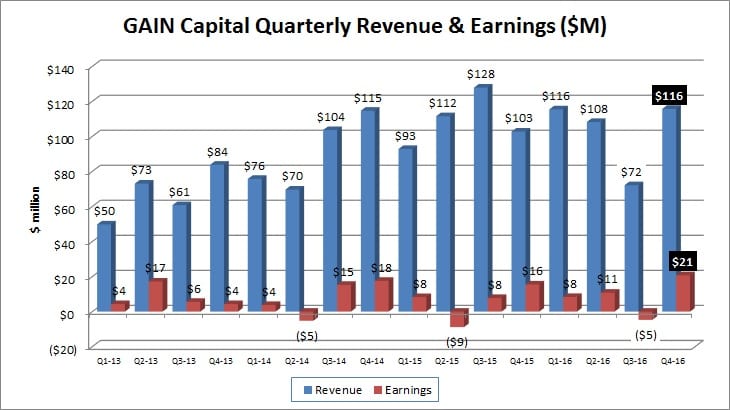 But in the what-have-you-done-for-me-lately department, Gain Capital also reported that February 2017 retail forex volumes clocked in at just $170.2 billion – 19% below January (although just off 11% on a daily-average-volumes basis), and Gain Capital's worst volumes result since September 2013.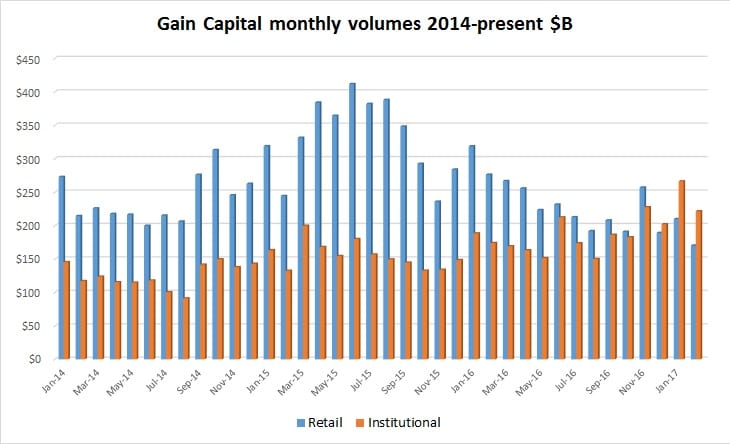 The company, of course, will soon be getting a bump in volumes thanks to its fire-sale acquisition of rival FXCM's US client base, which in late February brought in 47,000 accounts with total assets of approximately $142 million into the fold.
Gain Capital's full 2016 and Q4 results release can be seen here.