LeapRate Exclusive… FCA licensed spread betting, Forex and CFD brokers have seen an increasing amount of competition lately, mainly from foreign brokers who come to the UK to get "FCA regulated". These brokers do so in  the hopes of landing a foothold in the very lucrative UK market, still the world's highest value market in terms of lifetime-value-per-client, as well as to be able to market to potential clients around the world that they are a "safe" FCA regulated company.
Well, the next wave of competition may come from within.
LeapRate has learned that UK bookmaker and online gaming giant Betfred has backed a new retail forex and CFD trading website called, appropriately, TradeFred. TradeFred is beginning life as an offshore, Vanuatu based and licensed company. However LeapRate has learned that the company has already begun the process to receive an FCA license in the UK.
TradeFred.com went live last week.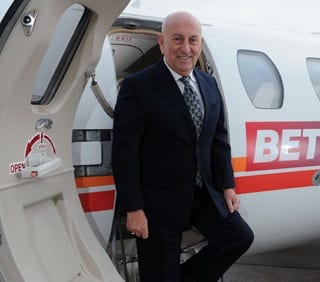 TradeFred is technically owned by a Vanuatu company called MagicPath Capital Ltd, which we believe is controlled by Fred Done, Betfred's co-founder and owner. TradeFred also lists a Manchester, UK based company called PathMagic Capital Limited, where apparently TradeFred has an additional permanent location to conduct business activities in Europe. The only director listed for PathMagic Capital Limited, which was only incorporated late in 2016, is ActiveWin CEO Warren Jacobs. ActiveWin is a large online marketing firm, also controlled by Fred Done.
TradeFred is offering MT4 trading, but may be preparing its own custom platform, in conjunction with Betfred. Although an offshore broker, TradeFred is limiting leverage to its clients to 50x (2% minimum margin), in line with new proposed rules issued late last year by the FCA. The launch of TradeFred does come at an interesting time in that regard, with the FCA's proposed rules for Forex and CFD brokerage about to become formalized when the regulator makes an expected final announcement in the coming weeks. The original announcement of the CFD rules by the FCA in December hit hard the shares of leading UK online financial brokers, including IG Group Holdings plc (LON:IGG), CMC Markets Plc (LON:CMCX), and Plus500 Ltd (LON:PLUS).
TradeFred states on its website that it does not offer its services to residents of certain jurisdictions such as USA, Canada, Japan and Israel. Interestingly, no mention is made of UK or EU clients, although we believe that unless and until the FCA license is in place, the company will steer clear of European clients as well.
However as part of the company's planned launch in the UK once licensing is worked out, Betfred has signed to be a shirt sponsor of Tier 2 "Championship" league football club Bolton Wanderers FC, with TradeFred named as "Official Financial Trading Partner".