Plus500 Ltd (LON:PLUS) just keeps on rolling.
In a summer quarter in which a number of its competitors have reported tepid operating and financial results citing low currency volatility and a "typical" slow summer vacation trading season, CFD broker Plus500 followed up its record Q2 with an even better set of results for Q3.
After passing $100 million in quarterly revenues for the first time in Q2, Plus500 Revenues were up another 5% in Q3 to $116.5 million. The increased activity also benefited the bottom line, with EBITDA of $70 million and Net Income for the quarter coming in at $52.5 million.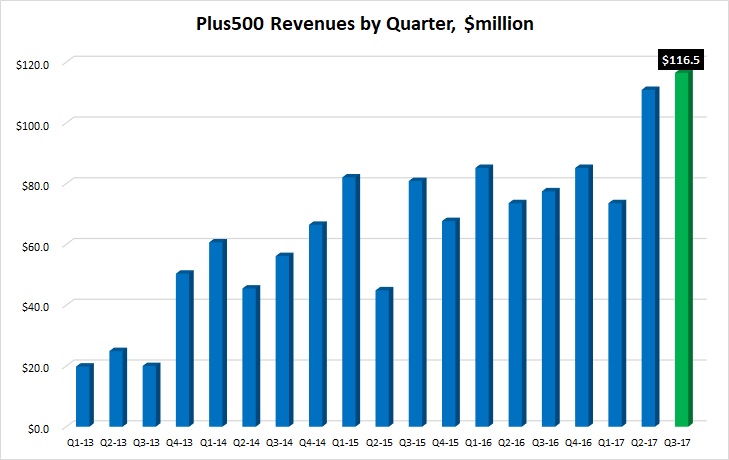 Driving Plus500's growth in Q3 were a record number of new customers – 42,492 to be exact – during Q3, up 35% from Q3 2016. In the first nine months of 2017, average revenue per customer (ARPU) increased and stood at $1,905 compared to $1,799 in the same period last year reflecting the progress in adding higher value customers.
And Plus500 drove its growth very efficiently.
Plus500's average customer acquisition cost (AUAC) actually fell, almost in half, to a level of $689 in Q3 2017 compared to $1,300 in Q3 2016, and $771 for the nine months ended September 30, 2017. Plus500 stated that this reduction reflects the company's efficient marketing strategies for acquiring new customers and has been an important factor in its improved EBITDA, which increased from $33 million in Q3 2016 to $70 million in Q3 2017, with EBITDA margin increasing from 43% in Q3 2016 to 60% in Q3 2017. Net profit for the period ended 30 September 2017 was $143.2 million, up 103% compared to $70.6 million in the period ended 30 September 2016.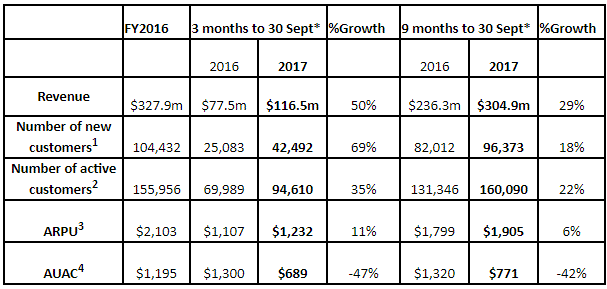 As far as outlook goes, looking ahead to 2018, the company stated that it believes that Plus500 is well positioned to take advantage of growth opportunities such as new licences and new instruments, whilst retaining its competitive advantage derived from its lean cost structure and technology leadership; these factors are expected to assist in mitigating the impact of any regulatory changes.
Plus500 has attracted a record number of new customers and active customers so far this year through its efficient investment in marketing and its retention initiatives, providing good momentum for the final quarter of 2017 and going into 2018.
Accordingly, the Board believes that the company is on track to report results which are ahead of market expectations for the year as a whole.
Asaf Elimelech, Chief Executive Officer of Plus500, commented:
Our results for the third quarter continued the strong progress of the first half, with record revenue and a record number of new and active customers. With this positive momentum, we are on track to achieve results which are ahead of our expectations for the year as a whole.
Plus500's full press release on its Q3 Trading Update can be seen here.