LeapRate Exclusive… LeapRate has learned that Estonia based Retail FX brokerage firm Admiral Markets Group AS has posted a nice rise in Revenues for the first half of 2018, with its Profit for the six month period nearly matching that of the entire 2017 year.
Admiral Markets – which is physically represented in 16 countries including licensed subsidiaries in Estonia, the UK, Australia and Cyprus – saw Revenues of €16.9 million (USD $19.6 million) in the January-to-June 2018 period, up 19% from the second half of 2017's €14.2 million. Total Revenues for 2017 were €27.0 million. About 75% of the company's Revenues, or €12.6 million, came through the Estonian entity Admiral Markets AS, with (presumably) most of the remainder from the group's UK-based FCA licensed sub Admiral Markets UK Ltd.
(Admiral Markets UK did £5.5 million (€6.1 million) in Revenues in 2017, so a first half 2018 in the €4 million range means a nice increase in that business as well).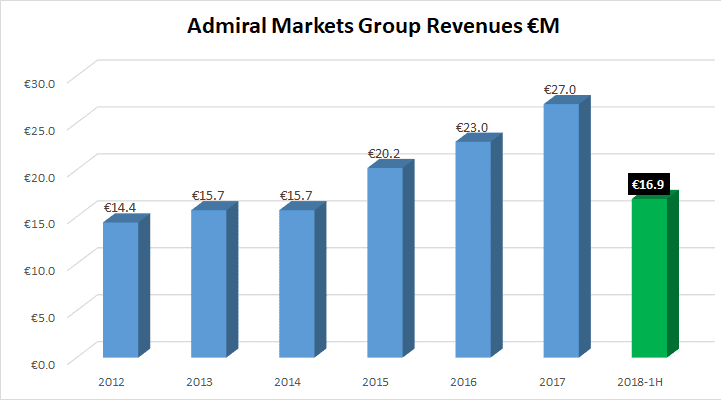 On the bottom line, Admiral Markets Group earned €5.9 million in Net Profit in the first six months of 2018. In all of 2017 the company earned €6.5 million.
The company reported having 28,607 active traders in the first half of 2018, versus 25,798 in 2017. The company has 225 employees, up from 209 as at year-end 2017.
Admiral Markets is controlled by Estonian businessman Alexander Tsikhilov. The company is run by co-CEOs Sergei Bogatenkov and Jens Chrzanowski.