Along with the Bitcoin Cash addition, global forex broker Admiral Markets has announced that CFDs on Bitcoin and Ether are now enabled for short selling. Sell stop and sell limit orders are now also available.
Traders with an Admiral.Markets account will now have the opportunity to capitalise either on trends and corrections of the world's two most popular cryptocurrencies, using long and short positions, respectively.
Note that short selling on margin involves the interest payments on the funds the broker borrows from the cryptocurrency exchange, so the resulting position financing rates will be as follows: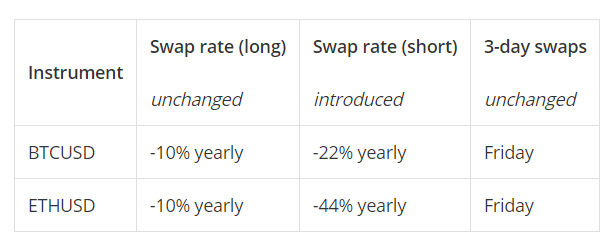 Borrow rates across the exchanges are considerably high, which reflects the volatility of the cryptocurrency markets and the magnitude of possible rate fluctuations which the exchanges must take into account when providing margin trading services.
For example, Bitcoin has climbed against the US dollar by around 1000% this year and surpassed the price of the troy ounce of gold by almost 3.5 times, with more than a 100% surge from mid-July to mid-August, 2017.
Additionally, Ethereum's blockchain 'fuel' cryptocurrency, Ether, has provided an even more stunning example of volatility this year, seeing it peak at around 400 USD in mid-June, following a straight 5000% rally within just 5 and half months, it's now being traded at around 300 USD.