LeapRate Exclusive… LeapRate has learned via regulatory filings that FCA regulated MT4 broker ActivTrades has continued its impressive growth with the company reporting healthy financial metrics for 2017.
ActivTrades, which is controlled by Swiss entrepreneur Alex Pusco who still serves as the company's CEO, saw Revenues grow by 16% in 2017 to £40.4 million (USD $55 million), up from £34.9 million in 2016. As recently as 2012 ActivTrades' Revenues were just £14 million, so the company has indeed been on a healthy growth spurt for most of this decade.
On the bottom line, Net Profit came in at £11.6 million, slightly down from £12.8 million in 2016 due mainly to FX revaluation losses of £0.6 million in 2017 versus a gain of £4.8 million last year. But again, a very good result overall.
While the company didn't formally report its trading volume figures in its results filing, we have learned in conversations with company insiders that volumes were up 20% over 2016, averaging $90 billion monthly during 2017 and peaking at $100 billion in August 2017. Monthly volumes figures during 2017 at ActivTrades were as follows: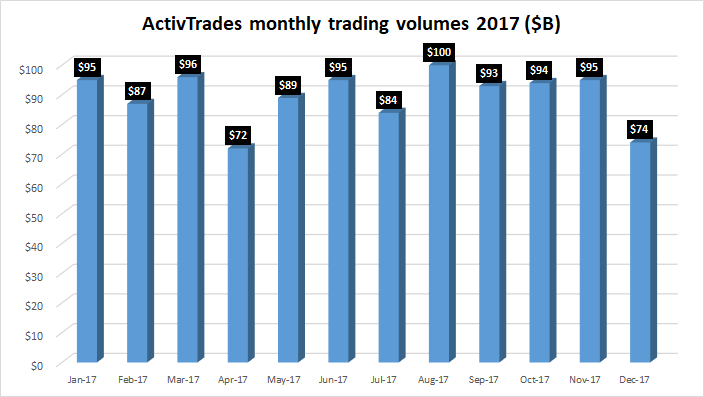 ActivTrades reported having more than 15,000 active clients as at year-end 2017, based on those who had placed a trade during the past 90 days.
During 2017, total net deposits from clients at ActivTrades totaled £45.7 million.
London-based ActivTrades operates three branches outside of the UK, in Italy, Bulgaria and in the Bahamas. While most of the company's business comes historically from the UK and western Europe, ActivTrades' recent international push has led to 25% of all active customers now being from outside the EU generating 28% of total revenue, up from 24% of revenue last year.
The well capitalized company exited 2017 with Equity of £51.1 million, up from £39.5 million in 2016.
ActivTrades has a total of 214 employees – 97 in the UK, 107 at the company's offices in Sofia, Bulgaria (with about half of those working in the IT department), 6 in Italy and 9 in the Bahamas.
An ActivTrades spokesperson provided LeapRate with the following commentary on the company's 2017 results:
In 2017 the Company's profit after tax was £11.6m (2016: £12.8m). The profit before tax for the financial year was £13.5m (2016: £15.2m). At 31 December 2017 Shareholder's funds were £51.1m (2016: £39.5m). £10.6m of the profit has been retained in the Company to fund continued expansion of operations and growth in new markets. Trading volumes increased 20% compared with 2017, and the Company's turnover increased 16% to £40.4m from £34.9m in the prior year, positively impacted by high market volatility.
ActivTrades' 2017 income statement follows: