Fast-growing FX and cryptocurrency affiliate company Investoo Group has announced the appointment of James Beale as Chief Finance Officer.
James Beale joins Investoo from Worldpay Group Plc, a global leader in payments processing, where he was Vice President of Divisional Finance. Before joining Worldpay in 2015, the University of Leeds educated Mr. Beale also worked for Debenhams and Walt Disney Studios Home Entertainment.
With almost two decades of experience in leading financial positions, the company said that James will bring his expertise into the fast growing company. He will take the lead in building a strong financial accounting function, developing and optimising all elements of financial stewardship. As part of the executive team, he'll also help set the strategic direction of Investoo Group.
Investoo Group has become one of the largest financial lead generation companies in the world. From a standing start in 2016, Investoo generated Revenues of $18 million in 2017, driven mainly by a number of website acquisitions in both the financial and cryptocurrency sectors. By our count the company has made six acquisitions since December 2016 including Bitcoinmag.de, as well as SocialTradingGuru.com, Invezz.com, 100ForexBrokers.com, and RoboAdvisors.com. Most recently, Investoo bought Dutch cryptocurrency portal Cryptostart.nl.
To support its acquisitions, Investoo secured a £7.5 million credit line late last year, as was exclusively reported by LeapRate. Based in London, the firm has grown from 1 to 50 employees in its first year. The group is backed by online technologies investors Kinetic Investments and Optimizer Invest.
James Beale stated about joining Investoo:
I'm delighted to join the Investoo Group at such a thrilling stage in its journey, operating in a cutting-edge industry in a nimble and forward-thinking way.

I couldn't turn down the chance to join this energetic, driven and creative team, directly influencing its success and trajectory and helping to unlock the potential of the Group.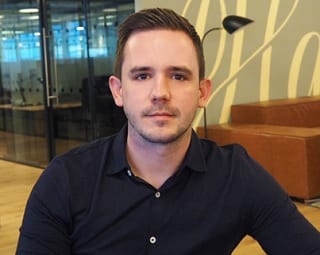 David Merry, CEO and Chairman of the Board of Investoo Group, expressed his enthusiasm for the new hire:
James brings a tremendous amount of experience to our team.

Finance will always play a crucial role in a fast-growing company like Investoo Group.

James impressed us throughout our extensive recruitment process with a keen eye for detail and a strong financial plan for our business going forward.