Mati Greenspan, Senior Market Analyst at FX broker eToro, has provided his daily commentary on traditional and crypto markets for April 30, 2019. The text below is an excerpt and does not contain the full analysis.
---
There's an old adage in the financial markets: Sell in May and Go Away
Of course, this doesn't necessarily mean that stocks will drop, it's just a saying that arose over time along with the seasons. During the summer months and as the weather heats up, volatility tends to die down, so it might be a good idea to rotate your investments around this time.
With several stock markets on or around their all-time highs and the US economy heating up at a rapid pace, now is certainly a great time for a portfolio checkup. Next Tuesday, we'll host an exclusive webcast for eToro platinum members where we discuss what to watch out for.
Today's Highlights
Sell in May and Go Away: With several stock markets on or around their all-time highs, the US economy heating up at a rapid pace, and the low volatility of summer approaching, now is certainly a great time for a portfolio checkup.
"Tether Gap" Drives Up Bitcoin Price: The price of bitcoin is about $325 higher on Bitfinex than the rest of the market, as traders are piling out of Tether and into other cryptos. Tether has managed to maintain its peg.
US, China Closing in on Trade Deal? A trade deal between the US and China is nearing the finish line. Traders are hoping an agreement will be made before tomorrow's Fed meeting.
Alphabet Drops on Ad Revenue: Alphabet earnings flopped yesterday as revenue from advertisements posted their slowest growth in a while. Apple will announce earnings today.
Traditional Markets
Trade talks between the US and China are into their final laps or so says US Treasury Secretary Steven Mnuchin. Decision time is close but we still have little indication of what the decision may be. As Steven has stated…

Perhaps they'll even be able to work something out before the Fed meeting tomorrow evening, which would certainly be ideal timing for us traders.
Earnings Update
Alphabet earnings flopped yesterday. Looks like Google and YouTube are actually selling fewer ads. Wait, no they're not. They're selling more ads, just less more than before.
Revenue from advertisements grew by 15% in the first quarter of the year, their slowest growth in a while.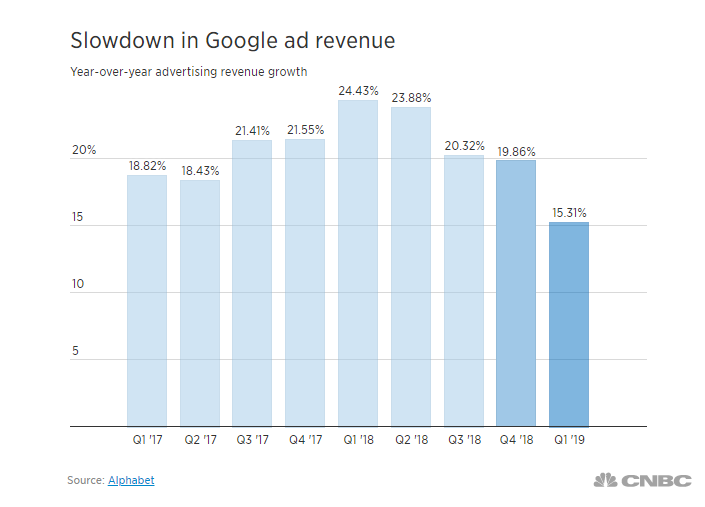 Earnings per share, revenue, and many other key metrics fell short of analyst expectations and GOOG shares are expected to drop about 7% at the opening bell.
No pressure Apple.
The Bitfinex Premium
Crypto markets are still on alert following last week's Tether debacle. We spoke about it a bit, as well as other crypto drivers, in this week's interview with cointelegraph, so check that out here.
What I'm watching at the moment is the bitfinex premium that's opened up and still persists this morning. At the time of this writing, the price of Bitcoin is about $325 higher on bitfinex than it is in the rest of the market.
This gap is a clear example of what I've been saying about Tether for months. Any sort of erosion in confidence in USDT is more likely to push the price of Bitcoin up, rather than down. As investors sell the stable coin they're more likely to buy other cryptos.
Still, the price of Tether remains remarkably stable. What's even more incredible is that it seems like this entire story has actually made other stablecoins more stable as well.
Here we can see the four largest stable coins by market cap.

We can see the clear market reaction on April 26th, which was that they all fell except for Paxos (yellow). Since then Tether has been trading at around 99 cents but at the time of this writing, they're all precisely $1, except Paxos, which is $1.015.
One trader, talking to the Wall Street Journal put it best when he said: "the market just doesn't care."
Funny enough, one thing the market might care about are Musk Tweets. The tech mogul Elon Musk put out a single word tweet last night, which led to an entire conversation about crypto adoption.
Now, we can't say definitively that it was Elon's tweet that moved the market, but we can see that the price of Ether rose sharply as the community quickly RTed and commented.
The time of the tweet is in the purple circle.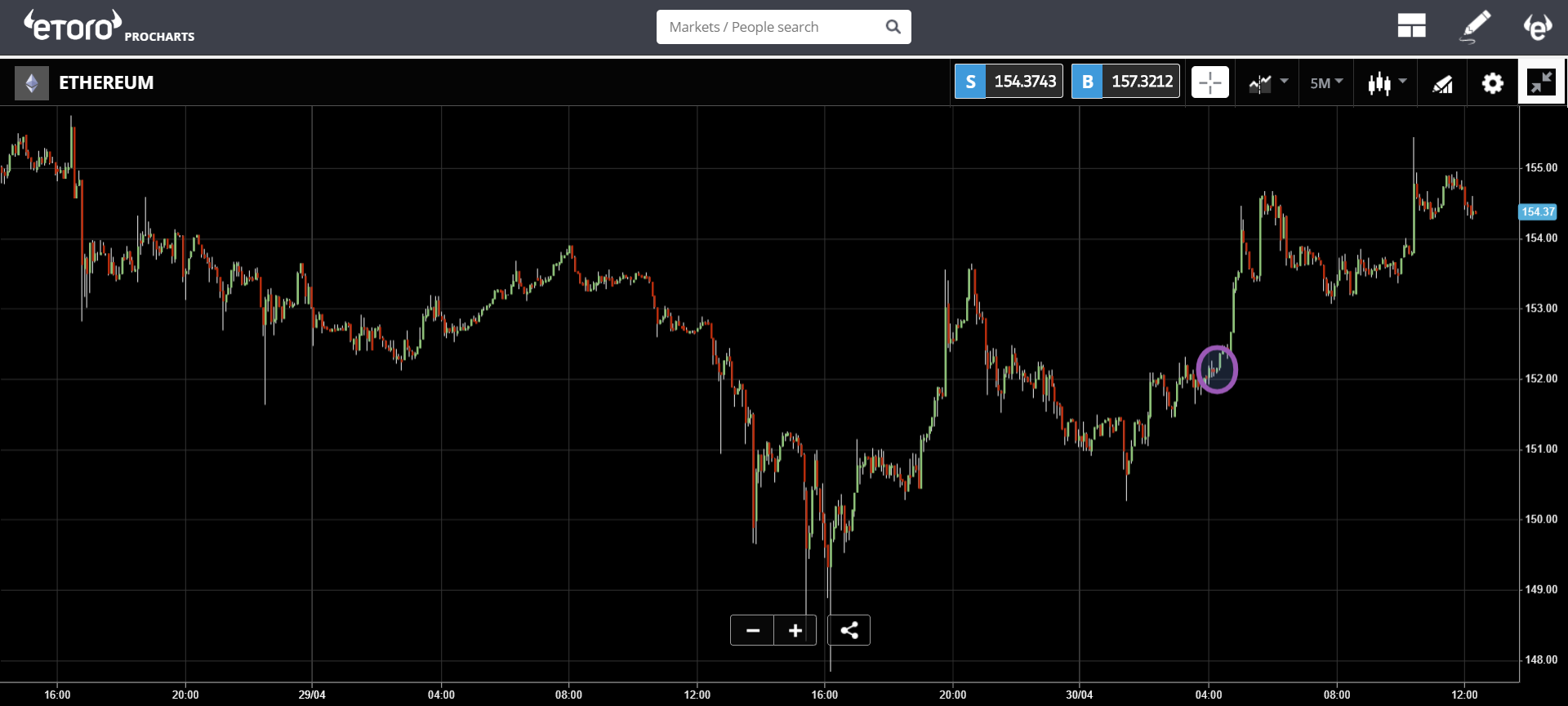 Let's have a fantastic day.
---
Mati Greenspan can be found on LinkedIn, Twitter, or etoro. 
This is a marketing communication and should not be taken as investment advice, personal recommendation, or an offer of, or solicitation to buy or sell, any financial instruments. This material has been prepared without having regard to any particular investment objectives or financial situation, and has not been prepared in accordance with the legal and regulatory requirements to promote independent research. Any references to past performance of a financial instrument, index or a packaged investment product are not, and should not be taken as, a reliable indicator of future results. eToro makes no representation and assumes no liability as to the accuracy or completeness of the content of this publication, which has been prepared utilizing publicly-available information.