Mati Greenspan, Senior Market Analyst at FX broker eToro, has provided his daily commentary on traditional and crypto markets for May 30, 2019. The text below is an excerpt and does not contain the full analysis.
---
A $5 million fund has now been set up in the United States for what is being dubbed the most important legal battle in the crypto world.
The Securities and Exchange Commission (SEC) sees more ICO fundraising efforts as an attempt to bypass current securities laws. These laws are in place for a good reason of course, to protect investors. However, the test that they're currently using to determine what is a security and what is not, known as the Howey Test, was established in 1934 and certainly requires a high degree of interpretation when applying it to cryptoassets.
So far, the SEC has been taking on very specific cases that they see as clear cut in order to set precedent for the market. We've already seen them shut down a few projects that were clear scams. They've fined others for providing tokens that clearly seem like securities. In one case, they even said that the project was not a security and gave them a pass.
What's quickly becoming clear is that when dealing with programmable money not everything is so clear cut. There are a lot of grey areas that fall between the above rulings.
The Kin ICO is one of those projects and it seems that they're not prepared to wait anymore. The project raised nearly $98 million to create a currency token for the Kik messaging app, which currently has an estimated 300 million active users. They feel strongly that their token should be classified as a utility token and not a security and therefore should not fall under the jurisdiction of the SEC at all.
The website defendcrypto.org has now been set up to accept contributions for this legal battle and it does seem like contributions are being made. The bitcoin address on their website has received 41 transactions over the last week totaling about 250 BTC, which is more than $2 million at today's prices.
That on top of the $5 million earmarked by Kin is one heck of a war chest. This battle will be epic.
Today's Highlights:
Kin (Kik) Form Coalition to Fight SEC: Kik, a messaging app, raised funds in an ICO for its token (Kin). Now, Kin has raised more than $5 million for its legal battle with the SEC to classify it as a utility token rather than a security.
Bitcoin Builds Momentum: Bitcoin's trend strength indicator shows that the market is in a "very strong" trend upwards.
Morgan Stanley CEO Advises Caution: Morgan Stanley CEO James Gorman suggested that investors shouldn't make a strong move at the moment, given the level of uncertainty in markets.
Big Bitcoin Buyer? A report emerged that an art dealer in London is looking to buy 25% of the Bitcoin in circulation. If this is even half-true, it's huge news.
Traditional Markets
The markets are anxious at the moment. At least that's what Morgan Stanley seems to think. Some flashy comments and headlines coming from this interview with MS CEO James Gorman.
According to Gorman, markets are nervous but not necessarily on the brink of collapse. He thinks that trade talks do need to get back on track as it is having a negative impact.
One thing he said really struck me… "right now I wouldn't encourage people to move one way or the other. There's too much uncertainty. There's nothing to be gained to try and be clever at this point in time."
Definitely worth watching!
Wall Street traders managed to stave off further losses yesterday as they defended the S&P500's 200-day moving average.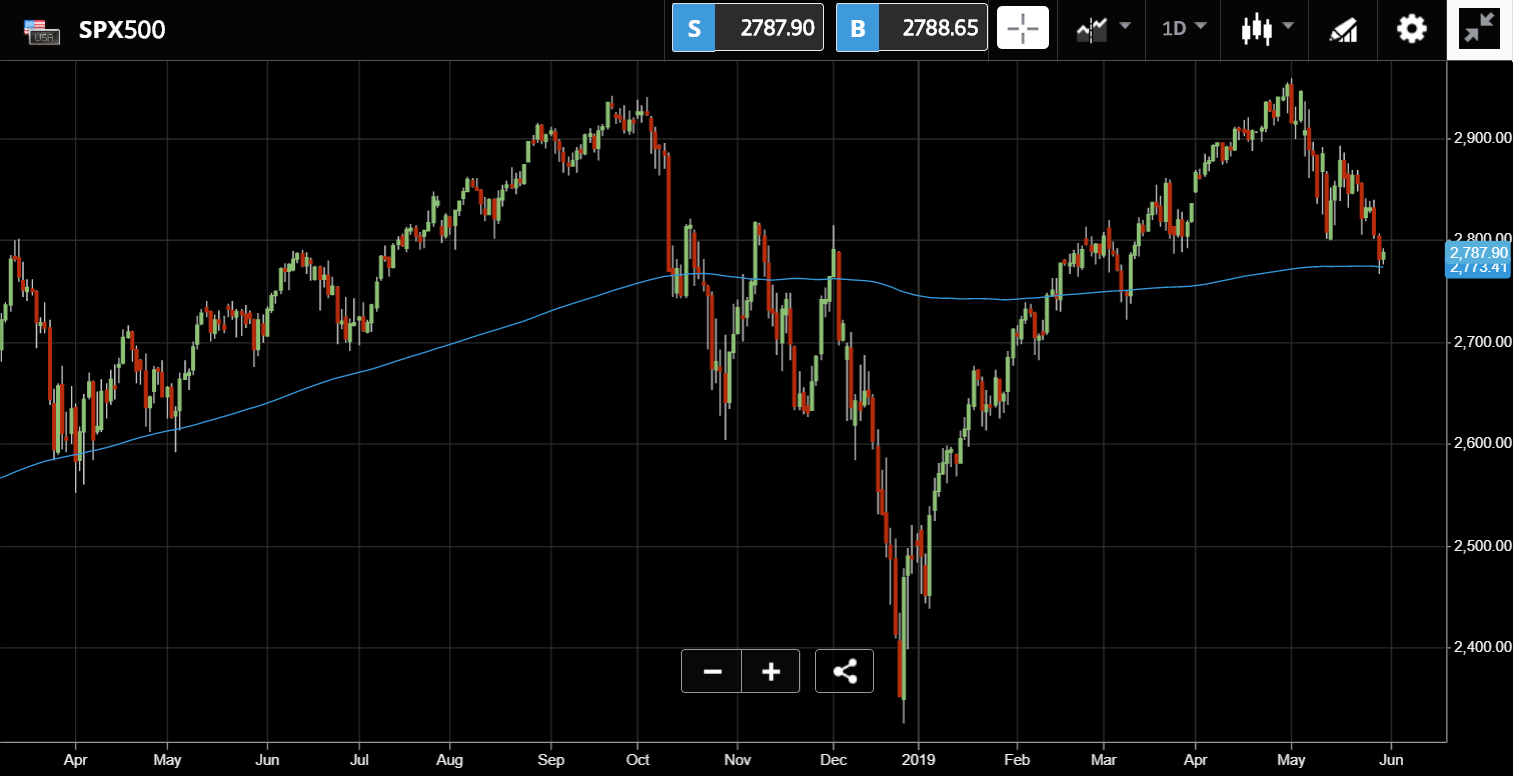 Watch out for the US GDP announcement coming in an hour before New York's opening bell.
Big Bitcoin Buyer
So, as I was writing our opening letter about Kin this morning, I got a call from Billy Bambrough who seemed quite excited. Billy is a well-known crypto writer and contributor for Forbes and boy did he have a scoop today.
Shortly after our conversation, this article was published detailing how a fine art dealer in London is looking to buy up 25% of BTC's total circulating supply.

Of course, I've never heard of Dadiani Syndicate before but if what they're saying is even half true this is really big news.
What's also not clear is how much Dadiani may have bought already or where exactly they are in their accumulation. I guess we'll find out later on… or not.
Bitcoin Trajectory
Crypto volumes have remained elevated over the last few days. Transactions on the blockchain are creeping up as are searches for 'bitcoin' on google.
As far as the chart is concerned, bitcoin is showing a clear skyward trajectory with a rather aggressive trendline (yellow line). Another technical indicator that I thought worth highlighting is the ADX (white line).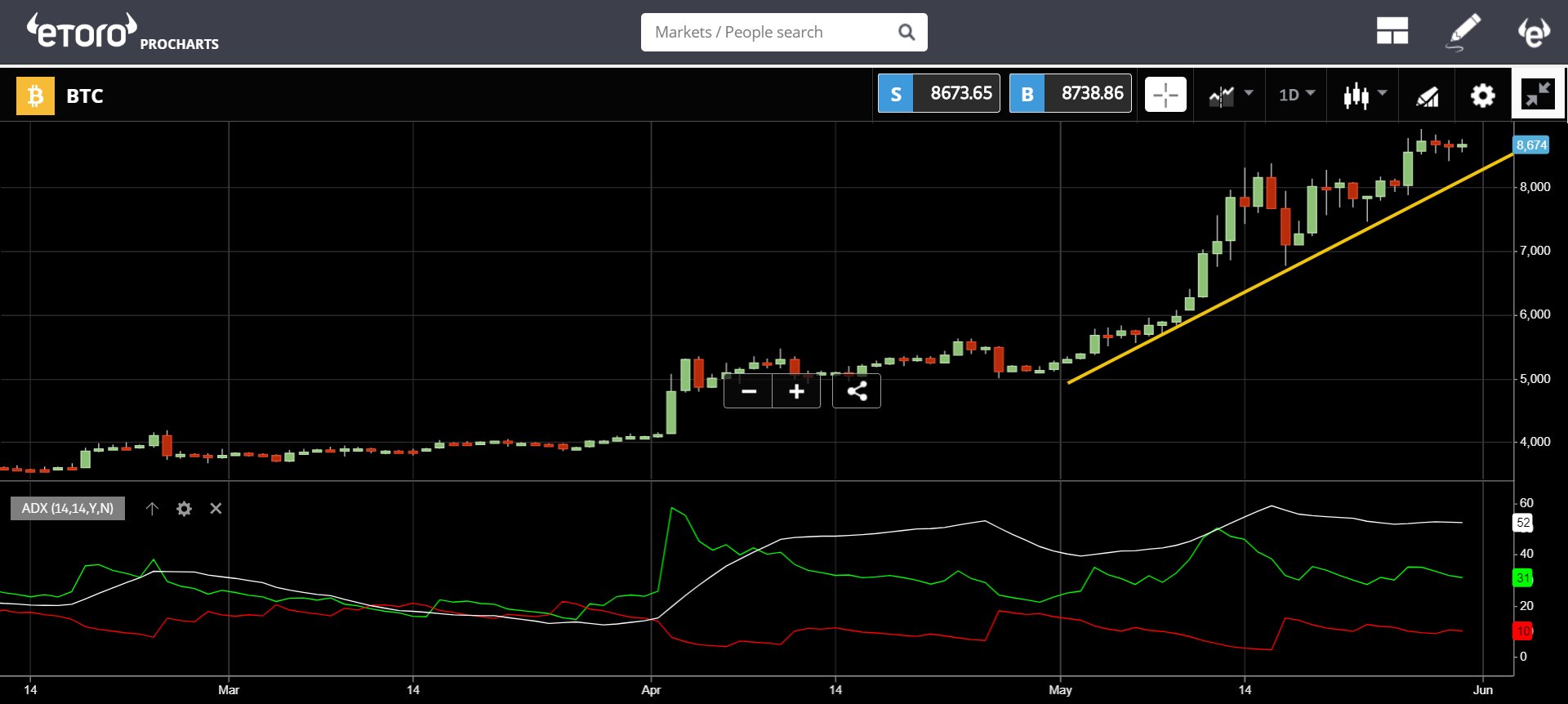 The ADX is drawn at the bottom of the chart and is designed to determine the strength of an asset's momentum. If the line is above 50, the market is said to be in a "very strong trend."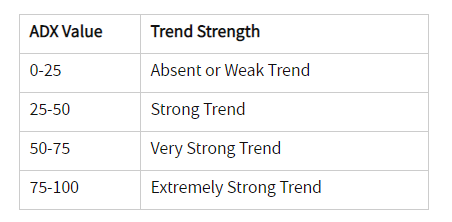 Well, it's been elevated since the April 2nd surge and has now sustained above 50 for more than 2 weeks and not showing any signs of abating.
Of course, past performance is not an indication of future results but everything we're getting off the charts does look bullish.
Have an amazing day!
---
Mati Greenspan can be found on LinkedIn, Twitter, or etoro. 
This is a marketing communication and should not be taken as investment advice, personal recommendation, or an offer of, or solicitation to buy or sell, any financial instruments. This material has been prepared without having regard to any particular investment objectives or financial situation, and has not been prepared in accordance with the legal and regulatory requirements to promote independent research. Any references to past performance of a financial instrument, index or a packaged investment product are not, and should not be taken as, a reliable indicator of future results. eToro makes no representation and assumes no liability as to the accuracy or completeness of the content of this publication, which has been prepared utilizing publicly-available information.