Conservative investment advisors are of a different breed, especially when it comes to appraising the merits of cryptocurrencies. This part of the institutional investor arena will generally be the last ones to come to the crypto party, but not everyone of this genre is solidly in this "stay-away" camp. One of these contrary fellows is Victor Dergunov, the founder of Albright Investment Group and co-founder of Albright Capital Partners LLC. He is very positive about his outlook for Bitcoin, as well as for a few other altcoins, too.
Dergunov has been in the investment management profession for nearly twenty years, writes articles for the Seeking Alpha financial news website, and has amassed over 18,000 followers on that network. He typically advises folks that prefer to "buy-and-hold" for the long haul, not unlike devout "hodlers", who have refused to give up their beloved Bitcoins for any reason. This type of investor seeks "value", as it were, in the hopes that five years out, the return will justify the investment.
Durgunov's advice is that Bitcoin is poised to rise higher over the next five years, much higher in his estimation. If you buy into his logic, Bitcoin is a no-brainer. Buy it now and hold, but ignore the "noise" on all news fronts between now and then. He also speaks similarly about four other token systems, Litecoin, Ripple, Dash, Zcash, and Monero, more to follow. To support his hypothesis, he reminds his followers that Bitcoin moves in waves, as per this Seeking Alpha chart: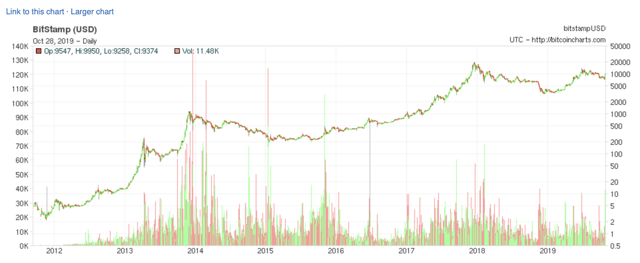 His take on the above price behavior for Bitcoin over the past eight years and beyond:
The important factor is that we are only about 10 months into the latest wave, and this could be akin to something like a second inning of a very long ball game. In other words, Bitcoin is likely to go much higher before this multi-year wave is over.
He then gets more specific with numbers:
I've mentioned in prior articles why the current wave is likely to last several years, and could drive BTC's price up to roughly $76-$100K, before the next bear market arrives. Conservatively speaking Bitcoin could be trading between $50K-$100K within the next 2-5 years.
Although many altcoins have not recovered from Crypto Winter as well as has Bitcoin, Dergunov still views several of them as being very cheap at the moment and also worthy of long-term investment. He offers these sentiments:
LiteCoin (LTC): "It's sometimes referred to as the silver to Bitcoin's gold, but it's far more efficient when it comes to transacting. It still looks relatively cheap and is likely headed much higher."
XRP (Ripple Labs): "Its price could explode much higher in the future. In fact, it's likely that over 200 banks and other financial institutions will be using XRP by the end of this year."
Dash: "It's built on a very solid platform, has a high level of encryption, and may be widely adopted much like LiteCoin."
Zcash: "It is even more encrypted, is efficient, low cost, and can handle a large quantity of transactions much like Dash and LiteCoin."
Monero: "It's the king of anonymous coins. There's a market for such coins now, and it will become much bigger in my view going forward."
As for downside risk, Durgunov does note that backlash from government officials and regulators poses the largest threat to achieving the appreciation goals that he has over the next five years. He is also bothered by exchange compromises and fraud, but feels these issues will be addressed adequately. He personally favors transactional tokens, but he counsels that the success of frontrunners could supplant the potential of others.
Several crypto analysts have often suggested to their institutional friends that a simple "1%" allocation of portfolio assets to cryptos would provide an excellent "hedge" for the long term, based purely on their appreciation potential. Dergunov, even though a conservative, speaks to higher allocations as justified:
Depending on your risk tolerance, roughly 5%-20% could be allocated to digital assets, in my view, and most of that should probably be in Bitcoin right now. Also, for most investors 5%-10% should be enough, but there are some with higher risk tolerance and more risk appetite that may want to allocate more.