Bitcoin is back to its old tricks of waiting until the weekend to make a positive leap forward. It had been ranging of late, unable to break out in any direction. If you went back to June, its fifth positive gain month in a row, BTC had been roundly repulsed from the $13,800 level. A "Double-Top" had formed, and the world's favorite digital asset seemed trapped within a descending wedge. Support had been established at $9,400, but it was anyone's guess, as to what might happen next. Then August rushed to open.
July would become the first negative return month since January, but Bitcoin began to show signs of life again, as the final week of the month drew to a close. August has begun with green candlesticks each day with a follow through occurring over the weekend. It broke through $10,000 quite easily and raced up to just beneath $11,000. As of 3:00 pm UTC, it sits at $10,962. Analysts are focused on $11,200 as a key hurdle in its present path. It is a key Fibonacci benchmark, and the last recorded high, $11,120, is just south of this watermark.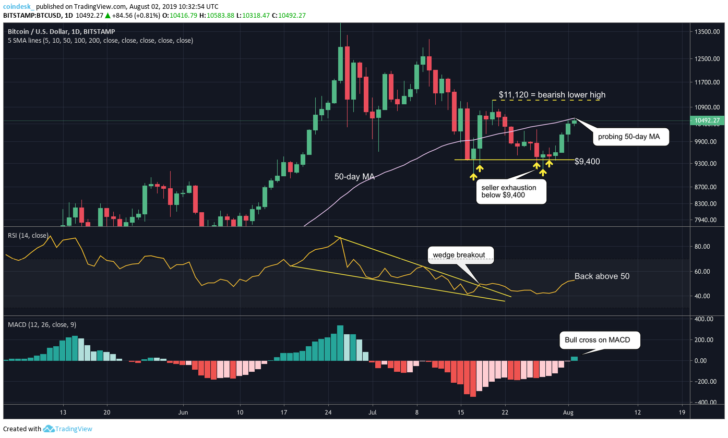 For the time being, the folks over at Coindesk are closely following the 50-Day moving average, as price behavior continues to probe about this key resistance line. BTC has managed to penetrate this line over the past 24 hours, but it has hesitated at $11,000. Perhaps, a 10% jump in August is a bit much to ask in so few days, but the MACD histogram has crossed over into green territory, a very could sign for future prospects, as well as the breakout depicted on the above Relative Strength Index (RSI) indicator. The week began with a "long-legged" green doji, a good sign that a reversal was imminent.
Will Bitcoin push higher? According to Nick Cote, a favored Bitcoin analyst, it will not take too much for Bitcoin to signal another "bull run" phase is in the offing:
Should Bitcoin turn the $11,100 to $11,300 region into support, meaning a strong close maybe on the daily and weekly, a move higher would totally make sense. A weekly engulfing for the bulls has usually had a follow through the following week.
BTC closed Saturday at $10,825, thereby providing the necessary "engulfing" green candle body for the previous week, as Cote suggested. This week will now be a test of his hypothesis.
There are also other analysts that agree with this thinking. $11,200 is critical, but the formation of a "Double-Bottom", a unique type where the fist bounce is sharp, but the second is more drawn out, has convinced a few observers that additional momentum is in the week to come. In case you are interested, the unique "DB" is known as an "Adam and Eve" bottom, the latter being a bit wider than the lean former. There can be four combinations of these DBs, but the "Eve and Eve" type is a bit stronger in obeying the odds than the other three. For now, we have to wait to see how this week plays out.
By the way, the future is not all peaches and cream for Bitcoin. There remain members of the analyst community that foresee the possibility of drops down to as low as $6,400, counseling investors that "panic buying" at this stage would not be a prudent move. Over the past week, BTC dominance has increased from 64.5 to 66.8%, a surge that some analysts attribute to Trump's recent tweets related to the China trade war. Other "safe havens" have also benefited at the same moment, suggesting that a reverse of the current surge can be expected, when risk appetites re-assert themselves.
It many be time for caution.