Bitcoin struggled through worrisome weekend trading, continuing its slow and gradual descent from yearly highs, but finding support around $9,500. For one brief moment, bears mounted a solid attack that drove BTC prices down to $9,110, but buyers quickly stepped in to boost it back to its current level of support. If you do the math, Bitcoin has "corrected" by 31% from its high of $13,800, in line with what informed analysts have been preaching for months. As always, the question is what's next?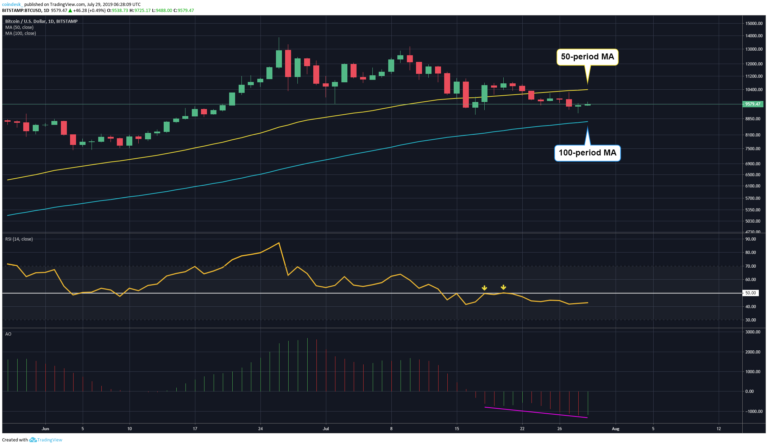 The general narrative has been that Bitcoin rose too swiftly from April through June. Its rate of climb was unsustainable. It had to pull back at some point. A correction would be healthy, give investors a chance to take profits, and allow a new set of investors to jump onboard. Its previous parabolic run up in 2017 included several 30%+ corrections, so why should now be any different?
A chorus usually follows, claiming that now is different. Institutional involvement is now material. Several key projects should open more "flood gates" to the public. Halvening events will create more pressure on pricing, and exchanges are upgrading to respond to compliance requirements from regulators. Bitcoin has also gained a reputation for being a "store of value" that can provide a considerable appreciation potential, as well, and serve as a formidable hedge against central bank mandated fiat currency dilutions.
With all of this being said, concerns are still rife about the near-term possibilities. The Trump administration and other global leaders have mounted a major assault against Facebook's much anticipated Libra Coin, while regulators have stepped up their chant that anonymity must be sacrificed, if cryptos expect to grow and thrive in the current global environment.
JJ Kinahan, the chief market strategist at TD Ameritrade, recently commented on the entire Facebook/Libra debacle:
Everybody, including regulators are trying to figure out the best way to roll this out to protect people, keep it something that's viable but keep it from being the Wild West.
Regulators also have more to focus on than just Libra. At the last G20 meeting in June, finance ministers approved a new set of crypto guidelines that will have broad ramifications across the industry, but require regulators in each jurisdiction to follow through with new rules. One analyst that spoke to this issue was Matt Maley, equity strategist at Miller Tabek & Co. He noted:
Bitcoin stands at a key technical juncture. Greater regulatory scrutiny will become an even much more prominent issue once we move past summer recess for Congress and into the meat of the 2020 election cycle.
What does the near term hold in store for Bitcoin? Is it stuck in ranging mode for the next few weeks or is it slowly stepping down at predictable intervals. Chonis Trading, a popular cryptocurrency analyst and trader on Twitter, explained his short-term thinking:
$BTC This is the only trade I'm interested in today. If #bitcoin pumps to the green line I'll short it. If it breaks lower support I'll patiently wait for a scalp long around $9K, either way I expect to be in and out rather quickly, this is not the environment to hold trades open.
Volatility is down. Ranging is in. It's not a good time to hodl.
Another concern is that BTC has trended below its 50-Day moving average for the past six days. If you eyeball the chart and count backwards, the last three weekly candles have all been red, not a good harbinger of positive things to come. The phrase that comes to mind is that the bears are in control. Momentum favors them at the moment, but Bitcoin, as always, beats to its own drum, regardless of the trustworthy insights derived from a technical perspective.
Even though technical signals appear bearish on many fronts, ranging price behavior could easily extend for a few weeks or more, and conventional wisdom suggests that the longer the ranging period, the greater the force of the breakout to come. The debate over the next few weeks will be whether the imminent breakout will be either up or down.