Bitcoin catapulted ahead in weekend trading, blasting through $10,000, as if there were no such thing as a psychological barrier or even formidable resistance. Then, in order to add the cherry to the top of this sundae or Sunday, whichever you prefer, cryptos' omnipresent leader vaulted forward, crossing the $11,000 sound barrier, not once, but twice to establish a new yearly high at $11,308. BTC has since pulled back from its fireworks display, and hovers about $10,900, catching its breath, no less.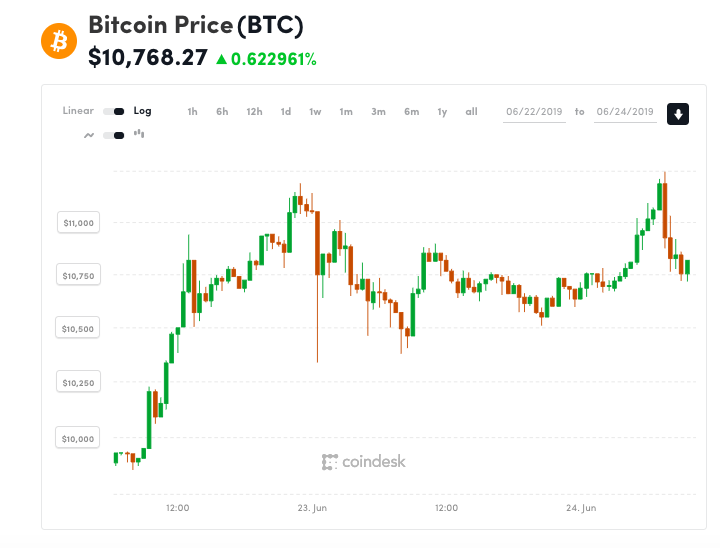 We are running out of adjectives and adverbs to describe the flashes of brilliance of Bitcoin, as it marches towards its "All-Time-High" (ATH) region, just below $20,000. According to Coindesk's Bitcoin Price Index, which forms a composite of BTC prices across various exchanges, Bitcoin set a new yearly and 15-month high of $11,308 early Monday morning in Hong Kong. As has been the trend of late, altcoins have not fared as well. The ebb and flow of BTC dominance continues – "the market capitalization for altcoins is down $3.8 billion over a 24-hour period".
As you might expect, industry leaders were effusive and quick to comment on the latest milestone of $10,000 that now appears distantly in the rearview mirror. Here are just a few of the more cogent ones to mark this momentous day in Crypto-Land:
Mati Greenspan, Senior Market Analyst at eToro:
Traders are speculating on future involvement of large players like Facebook. They believe that Libra will create mass awareness of cryptocurrencies and act as a gateway to adoption. The market has matured greatly since the last time bitcoin crossed $10,000. This run is far more justified given the current level of adoption — the bitcoin blockchain has remained consistently above 3.5 transactions per second since January. With Facebook making a grand entrance into crypto this week as well, it's likely that the market is anticipating greater institutional participation in the coming weeks and months.
Rob Viglione, Horizen Co-founder and President:
The $10k price mark is a psychologically important milestone for the bitcoin community following the harshness of the crypto winter. While the price surge could be related to the question of supply (the bitcoin "halvening" event in which the mining reward will permanently reduce by 50% is less than a year away), the impact of recent announcements, like Apple's CryptoKit launch and the release of Facebook's Libra White Paper, have undoubtedly also had an encouraging effect on consumer confidence around cryptocurrencies.
Mike Alfred, Cofounder and CEO, Digital Assets Data:
Supply and demand dynamics made it inevitable that BTC would break $10k. All the data compiled by the Digital Assets Data platform shows that citizens of countries with high inflation are adopting BTC independently of price movements. Now that BTC has reached the $10k mark, we could see all-time highs in short order, as attention in developed economies focuses back on BTC as an alternative to the Modern Monetary Theory approach taken by most central banks and policymakers.
Adam Badrawi, Senior Analyst at Wachsman:
Those without a historical understanding of bitcoin will likely chalk up its recent resurgence to a perfect storm of bullish news – and they might be right. The oft-repeated mantra that 'institutions are coming' seems to be coming true, with powerhouses like Facebook, Fidelity, Baakt, and more outlining increasingly definable product entry points into the crypto markets.
Joseph Denne, CEO and Founder of blockchain technology and edge computing services company DADI:
As we look to the back end of summer and Q4 we expect to see a significant rally in the value of altcoins, driven in the main by Bitcoin's appreciation, but underlined by the potential of the technologies being developed and deployed. The recent "crypto winter" has had the effect of shaking out a lot of the more dubious projects in the space, which has been of great benefit to the ecosystem as a whole. What is left is a more mature set of platforms, with technologies that can be activated and used today.
George McDonaugh, CEO and Co-Founder of blockchain and cryptocurrency investment firm KR1:
Caution is however strongly advised. On the long way up to $20,000 there were five moments where there was a 40% decrease in price. These shakeouts test your staying power and many new entrants will hand their precious coins back to the market. We will see huge corrections again, and passing 10k may well be the catalyst that drives us back down, but whatever happens, we've been clearly shown that the interest, adoption and money has not in any way left this new asset class.
Full speed ahead is the general tone, with a bit of caution and acknowledgement that the historical record may still repeat, as Bitcoin attempts to regain and surpass its ATH. We can expect another round of profit taking, which suggests that $11,400 may provide resistance, whatever that might mean in today's barrier-breaking mentality of Bitcoin.
The proverbial question now is: "What's next?" The latest "sure-fire" indicator being bandied about is something called the "Mayer Multiple". It is the creation of Trace Mayer, a Bitcoin advocate and host of the Bitcoin Knowledge podcast. His forecasting tool assigns odds to various price levels in the future. According to Mayer:
The current trajectory should favor an end-of-year bitcoin price of $21,000… Very low probability of $40k in a few months.
We must interject that emotions are running very high at the moment. Caution is advised, and past performance, the basis of all technical analysis predictions, is never a guarantee of future outcomes. Aside from that obvious caveat, these are exciting times!