The Bitcoin train just keeps chugging along, refusing to pull back sharply, as some analysts of note have suggested, and setting a new high for the year in the process. There has been a great deal of "hype" in the press this week regarding Facebook's published plans for its proprietary crypto "Project Libra", which will enable cross-border payments via a stablecoin and blockchain infrastructure. According to many observers, Bitcoin has benefited from this "hoopla", although Facebook is months away from its planned launch and will surely have many substantial regulatory hurdles to surmount.
Analysts have also focused on the futures market, since the CME released data noting a new high in their open interest contracts, as well. One representative chart began in January of 2016 at 1,000 contracts and then rose on a constant sloping line to the 5,311 contracts, the result of a spike on June 17 and a new all time high. A futures pricing chart, courtesy of Trading View, is presented below: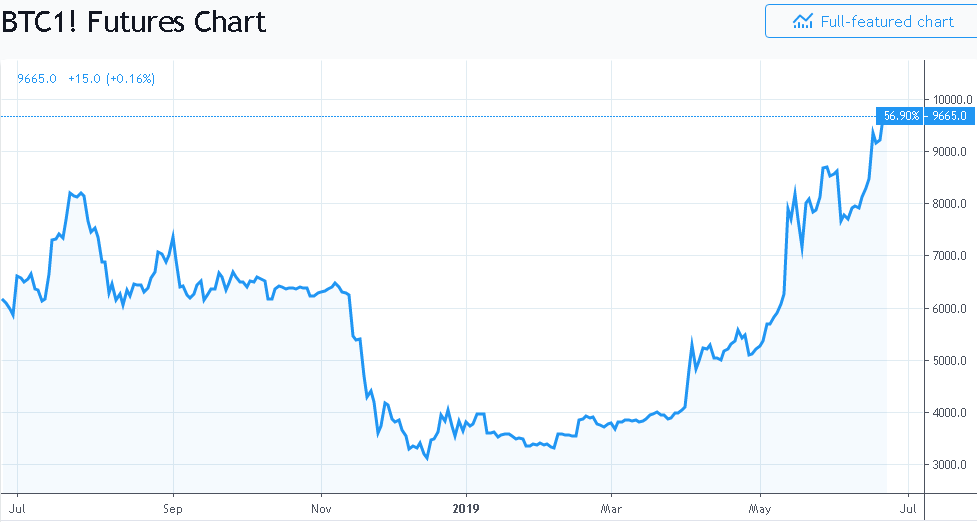 June net-price movements have moved back into positive territory, and if this trend holds, Bitcoin will have printed its fifth month in a row of net gains. The last time that happened was during its parabolic rise in 2017. Futures are standardized contracts that bind a party to buying or selling an asset on a predetermined date. CME contracts, as well as all others, at the moment settle in cash. When the Bakkt exchange comes on stream next month, its contracts will be physically settled "in-kind" and could, therefore, directly impact price behavior on other exchanges.
Since institutional investors typically find futures contracts to be an important "tool" when managing the risk in their portfolios, the presumption is that this increased demand for the CME's product offering is a sign that institutional interest is a primary driving factor in Bitcoin's recent success. Both the CME, as well as Nikolaos Panigirtzoglou, an executive with JPMorgan Chase, have noted that BTC futures are becoming more popular with institutional investors, who are now having a greater influence on the Bitcoin market, too.
In other reports this week, it was noted that:
Bitcoin fell 2.87 percent on Tuesday, ending the longest stretch of daily gains since July 2018. The latest six-day winning streak saw bitcoin rise from $8,120 to $9,366. That was the longest stretch of daily price gains since July 2018. Back then, the price had advanced for seven successive days – from July 13 to July 19 – to hit highs above $7,500.
Tuesday, however, may have just been a pause that refreshes, since the world's favorite cryptocurrency resumed its assault on the $9,400 level, where analysts have contended that there was a multitude of profit-taking orders that would block Bitcoin's ascent with a vengeance. If that were the case, it would appear that profit taking has ended and a new energized set of investors has joined the fray. As of this writing, BTC has risen above $9,700, its highest level since April of 2018, and it shows no signs of letting up. The talk now is of $10,000, a psychological barrier for sure.
What happens after the $10,000 benchmark? Analysts point to $11,700 as significant and possibly where "FOMO" will finally take over, if you accept that this year's rally has any resemblance to what happened back in 2017. Per a recent tweet from Josh Rager, a popular crypto analyst on Twitter:
Where must Bitcoin cross to thrust price to new highs? That level is close above $11,700. Minimal resistance between $14k to $16k won't be enough to stop BTC. Bullish sentiment & greed will propel price action to new highs & accumulating under $11,700 will be key, imo.
As this week draws to a close, will Bitcoin continue to establish higher highs and higher lows in its march back to stardom? Weekend trading sessions have set the tone for the week to come, of late, just one more trend that could repeat, but Bitcoin has a habit of fooling bulls and bears alike.