Last week may go down in history as a major turning point for Bitcoin. Attacks were coming from every quarter, as government ministers took aim at Project Libra, Facebook, and by association, Bitcoin and its altcoin brethren. Two weeks back, BTC had risen above $13,000, but Jerome Powell, the chair of the Fed, spoke negatively about Facebook's Libra before Congress and placed doubt in lawmakers' minds. The world's leading crypto plunged down to $11,600, only to get pelted the following week, when officials from around the globe blasted away at Libra and cryptocurrencies.
But Bitcoin is not Libra. Although it had dipped to just above $9,000, it began its comeback by the end of last week, when the governmental firing squad had finally stopped casting aspersions at Facebook's pet project. As volume subsided over the weekend, BTC slowly began to rise once again off the canvas to find support at a key Fib level of $10,200. It continues to oscillate at that plateau, slowly consolidating. This 4-hour chart, courtesy of TradingView, depicts the storyline details: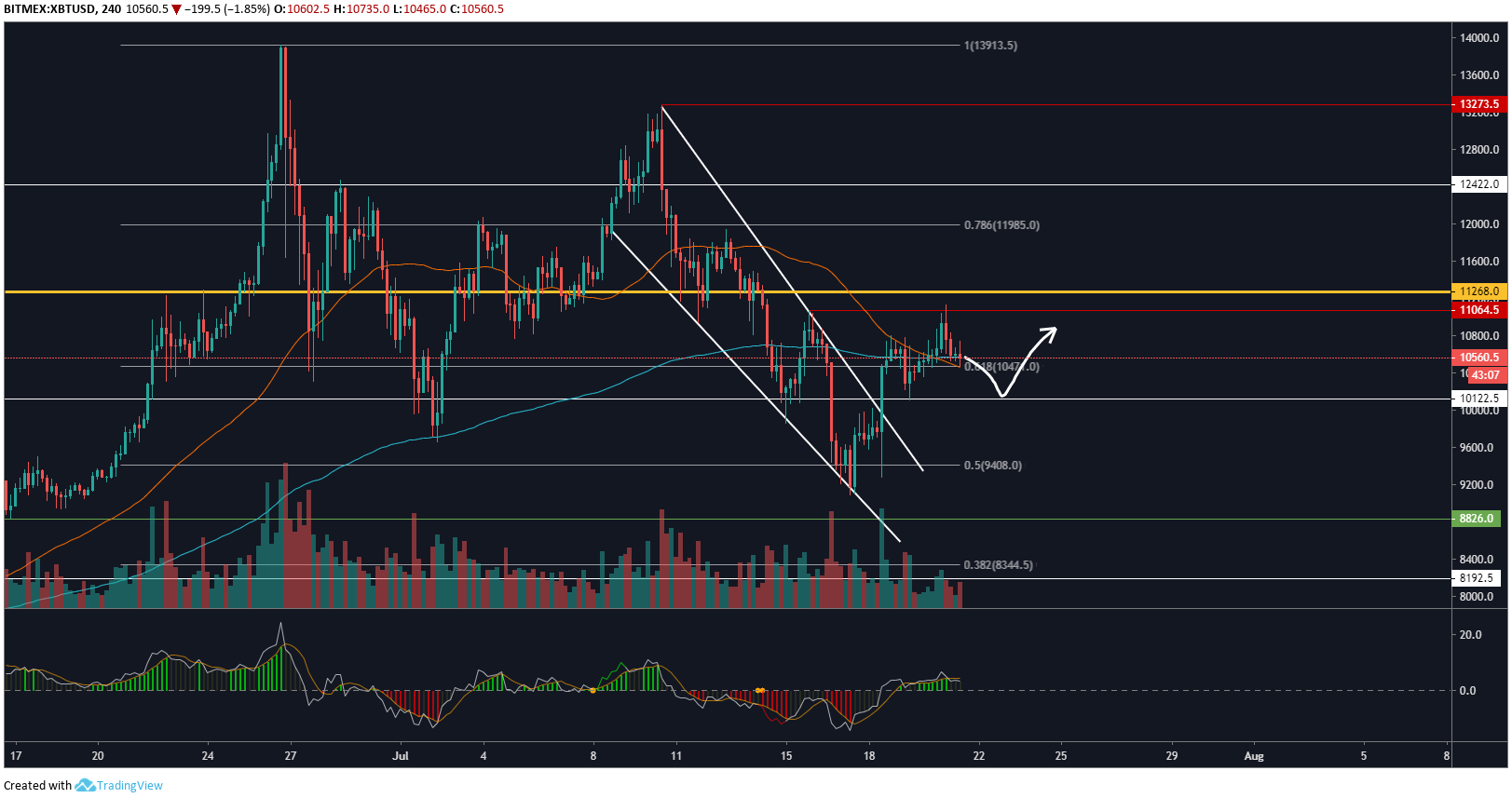 Powell's purpose was to deliver his semi-annual report on the economy, but members of Congress were looking ahead to the following week when Libra's executive in charge, David Marcus, would be facing the crew. As a result, Powell received an offhanded query to which he responded:
It's something that doesn't fit neatly or easily within our regulatory scheme, but it does have potentially systemic scale. It needs a careful look, so I strongly believe we all need to be taking our time with this. The process of addressing these concerns should be a patient and careful one, not a sprint.
Soon thereafter, the Foundation for Defense of Democracies (FDD), a right-wing think tank based in Washington, DC, published a report that warned that national crypto systems could pose a threat to international sanctions, prompting President Trump to go on an anti-crypto tweeting tirade, while his Treasury chief, Steven Mnuchin, declared cryptos to be a national security issue. Word spread and before the sun set, ministers in Japan, France, Germany, and other countries of note jumped upon the bandwagon, decrying Libra and Facebook, as if they were common criminals stalking about in the shadows. Needless, to say, prices plummeted. Skeptics were on parade.
Michael Novogratz, a billionaire investor and the CEO of Galaxy Digital, has grown tired of crypto skeptics continuing to claim Bitcoin will go to zero, as soon as values dip considerably. He claims that BTC is consolidating, as it has in the past, and is preparing another upward assault:
If BTC goes to $100, it is game over. It won't. It's already established itself as a store of value. Stop wasting your time with these tweets and go outside and enjoy the summer. BTC is consolidating before its next move higher.
As the dust settled, crypto advocates began to reappear. After lengthy attacks on Libra and to some degree Bitcoin had passed, U.S. representative Patrick McHenry told viewers of CNBC's "Squawk Box" that politicians cannot destroy Bitcoin:
I think there's no capacity to kill Bitcoin. Even the Chinese, with their firewall and their extreme intervention in their society could not kill Bitcoin. The essence of Bitcoin is what Libra and Facebook, and corporates are trying to mimic.
As for what is next, we can at least say that Bitcoin has seemingly weathered a horrific storm, a chorus of negative voices spread across the globe. From a technical perspective, we can review the above chart for clues, as well. The "Double-Top" rejection was one signal that the bulls had run out of steam, but the downward channel was disconcerting for many analysts. The positive breakout, however, confirmed that $10,000 might now be a rugged support level, one that could propel BTC upward again.
The Fibs on the chart go back to the beginning of Bitcoin's meteoric rise in early April. It currently rests at the key 61.8% plateau. Retracements from the recent drop phase would be put it squarely between the 38.2% and 50% Fib benchmarks, another key resting area of support, but these areas are also known as the "Decision Zone", or more euphemistically as the "Chop Zone". In that vein, the week ahead is extremely important in determining whether Bitcoin has the energy necessary for another upward thrust.