Tough times for the US based retail forex brokers. And their shareholders.
Shares of Gain Capital Holdings Inc (NYSE:GCAP), parent company of retail forex broker Forex.com and institutional brand GTX, have continued to drift downward the past few months, hitting a 52 week low late last week.
At Friday's close of $5.70, Gain Capital shares are at their lowest level since mid 2013 (see chart below).
So what's wrong?
Gain Capital gained some momentum with investors last year following its acquisition of London-based City Index. The acquisition was viewed as a fairly shrewd one, at a decent price, which would help not only give Gain Capital and its Forex.com brand a one-time boost in clients and activity, but also a strong foothold in the lucrative UK online trading market.
Gain Capital's shares traded up in the weeks following the closing of the City Index deal to above $10, as Gain reported retail volumes which topped $350 billion monthly, making it one of the world's largest retail forex brokers.
But something has happened since.
Gain's monthly retail volumes have drifted down to under $200 billion this year (they were back up to $208 billion in September). It seems as though many of the former City Index traders have migrated to other leading UK platforms such as industry leader IG Group Holdings plc (LON:IGG), fast growing CFDs-focused broker Plus500 Ltd (LON:PLUS), and others, as the FCA-regulated broker market gets increasingly crowded and competitive.
And investors have voted with their feet. Gain has seen a very slow but steady drift downward in its share price, with little news on the horizon which might indicate growth (Q2 revenues were down 6%) and get investors excited again about the company.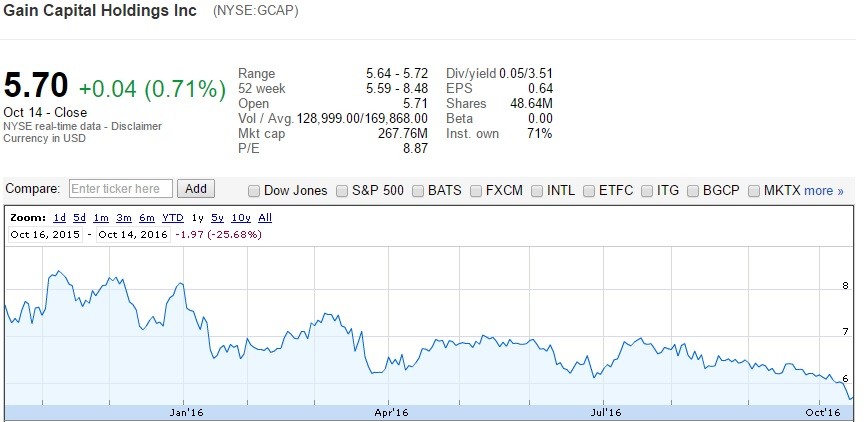 Gain Capital 12 month share price graph. Source: Google Finance.