It has been exactly two weeks since we reported that retail forex broker Gain Capital Holdings Inc (NYSE:GCAP) had seen its shares fall to a new 52 week low, with GCAP hitting $5.70 on October 14.
Well, things haven't gotten much better since then.
Gain Capital, parent company of retail forex broker Forex.com and institutional brand GTX, has seen its stock drop by another 13% over those two weeks, closing at $4.98 this past Friday, October 28 – the first time Gain Capital shares have traded below $5 since May 2013.
Gain Capital hasn't put out any press releases over the past few weeks, so the share price drop hasn't been precipitated by any news.
So what's wrong?
The company is reporting its Q3 financial results later this week, and it would certainly seem that investors are not expecting good news. Forex.com trading volumes were fairly week over the Q3 summer months, averaging $204 billion monthly in July-August-September. In Q1 they averaged $287 billion and in Q2, $237 billion.
However we think it goes deeper than that, with stock market investors realizing that not only isn't Gain Capital growing on is own (an understatement!), but the company hasn't exactly been able to grow by acquisitions either.
As we wrote two weeks ago, Gain Capital gained some momentum with investors last year following its acquisition of London-based City Index. The acquisition was viewed as a fairly shrewd one, at a decent price, which would help not only give Gain Capital and its Forex.com brand a one-time boost in clients and activity, but also a strong foothold in the lucrative UK online trading market.
Gain Capital's shares traded up in the weeks following the closing of the City Index deal to above $10, as Gain reported retail volumes which topped $350 billion monthly, making it one of the world's largest retail forex brokers.
But something has happened since.
Gain's monthly retail volumes have drifted down to the low $200 billion range this year. It seems as though many of the former City Index traders have migrated to other leading UK platforms such as industry leader IG Group Holdings plc (LON:IGG), fast growing CFDs-focused broker Plus500 Ltd (LON:PLUS), and others, as the FCA-regulated broker market gets increasingly crowded and competitive.
We'll clearly get more details on Q3 figures, as well as how Q4 has started at Gain Capital, when the company reports results later this week.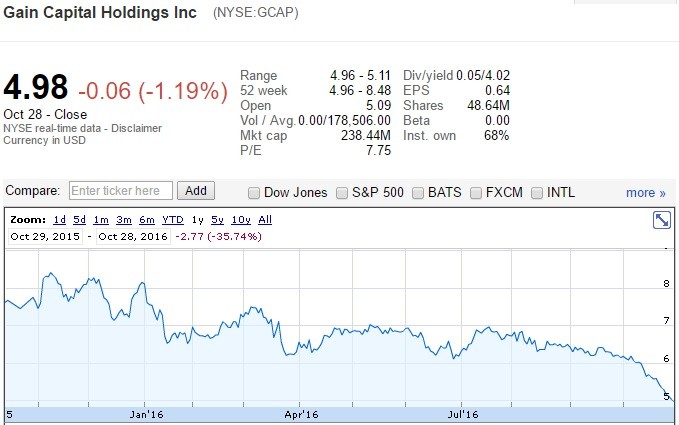 Gain Capital 12 month share price graph. Source: Google Finance.