Warsaw based X Trade Brokers Dom Maklerski SA (WSE:XTB), which operates Retail Forex broker XTB.com, reported after the close of trading Wednesday that the company brought in record Revenues and earned record profits during fourth quarter of 2016.
For the full year 2016, however, Revenues and Profits were down significantly from last year.
Some Q4 highlights from XTB:
Revenues of PLN 94.1 million (USD $23.2 million), more than double Q3's PLN 42.8 million, and the company's best ever quarter.
Net profit of PLN 51.4 million ($12.7 million), nearly double the PLN 27.3 million XTB earned in the first nine months of the year.
9,624 new accounts and 19,376 active accounts, both quarterly records at XTB.
PLN 116.8 million ($28.8 million) of net client deposits, also a quarterly record.
XTB's Q4 results represent an amazing turnaround for the company, which had a very weak Q3 sending the company's shares into a tailspin from which it hasn't yet recovered. Management had previously announced that it would announce Q4 and full year 2016 results in late March. However given the share price doldrums we mentioned, a decision was made to expedite reporting given the good news.
We believe that many Retail Forex brokers are set to report very robust results for Q4, for the same reasons which drove XTB's record financials – strong volatility in both currency and equity markets, particularly around the November US election and surprise win by now-President Donald Trump.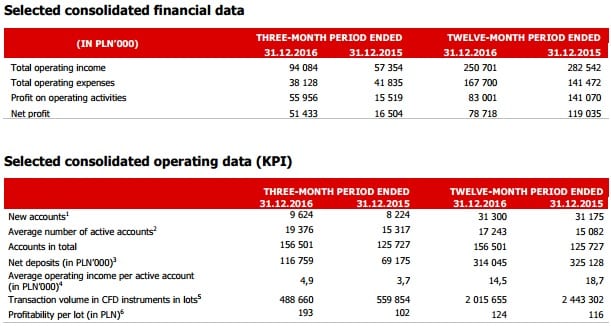 XTB CFO Pawel Szejko shared the following explanation of the company's strong Q4:
In the fourth quarter of 2016 the situation on the financial markets was favorable for the XTB. We observed high volatility on instruments which are relevant in our revenues structure: index CFDs (based on German DAX and US DJIA and S&P500), currency pairs with USD, and commodity CFDs based on gold and oil. As a result, the Group generated PLN 94,1 million of operating income which gives an increase of PLN 36,7 million, i.e. 64% y/y.
On the bottom line, the company's cost cutting instituted after the weak Q3 results seems to have paid dividends. XTB management stated that its intention in the upcoming quarters is to further keep operating expenses on a stable level, similar to that from the fourth quarter 2016.
Management also stated that its plan for the upcoming periods is to accelerate the Company's growth, in particular by expanding the customer base, further penetration of existing markets and acceleration of geographic expansion into new markets.
XTB is still restructuring its management ranks, following the recent dismissal of CEO Jakub Maly earlier this month.
XTB successfully completed its IPO on the Warsaw Exchange in May at a valuation of $349 million, at a price of PLN 11.50 per share. XTB shares have traded as high as PLN 15.47, but at their current price of 8.68 sit 25% below their IPO price.
XTB's preliminary results report for Q4 and full year 2016 can be seen here (pdf).